Ancestry, Family Trees & Heraldry.
---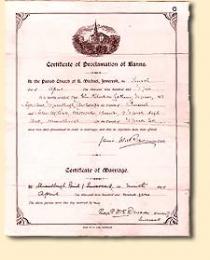 Scottish Roots
16 Forth Street
Edinburgh
EH1 3LH
Tel: +44 (0)131 477 8214
Fax: +44 (0)30 550 3701
Email: stuart@scottishroots.com
Web: www.scottishroots.com
Scottish Roots was established in 1984 in Edinburgh by Tony and Stuart Reid, to provide an ancestral research service for those who wish to discover more about their forebears - who they were, where they lived and how they were employed.
Scottish Roots now employ a team of researchers all of whom have at least 20 years of experience using records at New Register House, Edinburgh. Tony Reid was head of the Library and Reference division of the European Parliament in Luxembourg. He has particular interest in the use of computers and information technology for the genealogist.
Stuart Reid is an honours graduate in Communication Studies and is also an experienced researcher having used the records at New Register House for 22 years.
---
Ancestry, Family Trees & Heraldry
1837 online.com | Achievements | All Family Tree | Ancestors | Ancestry | British Kings and Queens | Burkes Peerage and Gentry | Census Searches HI | Family Tree Magazine | Family Tree Maker | Family Tree Searcher | Free Coats of Arms | Genealogy | Genes Reunited | Heraldry On The Internet | My History | My Trees | One Great Family | Past Search | Scottish Roots | UK Genealogy | UKI search | Useful Ancestry Links | Victor Longhorn Family History Research |
County Links
England
| Bath | Bedfordshire | Berkshire | Birmingham | Bristol | Buckinghamshire | Cambridge | Cambridgeshire | Cheshire | Cleveland | Cornwall | Cumbria | Derbyshire | Devon | Dorset | Durham County | Essex | Gloucestershire | Hampshire | Herefordshire | Hertfordshire | Isle of Wight | Kent | Lancashire | Leicestershire | Lincolnshire | Liverpool | London | Manchester | Merseyside | Norfolk | Northamptonshire | Northumberland | Nottinghamshire | Oxford | Oxfordshire | Rutland | Shropshire | Somerset | Staffordshire | Suffolk | Surrey | Sussex | Tyne and Wear | Warwickshire | West Midlands | Wiltshire | Worcestershire | York | Yorkshire |
Scotland
Aberdeenshire | Angus | Argyll, Mull, Bute | Ayrshire | Dumfries and Galloway | Dunbartonshire | Dundee | Edinburgh | Falkirk | Fife | Glasgow | Highlands and Islands | Isle of Arran | Kincardineshire | Lanarkshire | Lothian | Moray | Orkney Islands | Perth and Kinross | Renfrewshire | Scottish Borders | Shetland Islands | Stirlingshire |
Wales
Anglesey (Isle of) | Bridgend | Caerphilly | Cardiff | Carmarthenshire | Ceredigion | Conwy | Denbighshire | Flintshire | Gwent | Gwynedd | Merthyr Tydfil | Monmouthshire | Neath Port Talbot | Newport | Pembrokeshire | Powys | Rhondda | Swansea | Torfaen | Vale of Glamorgan | Wrexham |
Northern Ireland
Antrim | Belfast | Down | Fermanagh | Londonderry | Tyrone |
Ireland
Cavan | Clare | Cork | Donegal | Dublin | Galway | Kerry | Kildare | Kilkenny | Leitrim | Limerick | Mayo | Meath | Sligo | Tipperary | Waterford | Westmeath | Wexford | Wicklow |
The Channel Islands and The Isle of Man