Antiques and Collectables in Great Britain.
---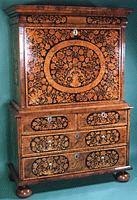 Witney Antiques, Witney
Antiques, Curios and Collectables
As you make your historic journey around Great Britain you will find a veritable treasure trove of antiquities, collectables and objets d'art to discover in the thousands of antique shops, galleries and markets across the country.
Sometimes you need go no further than your grandmothers attic to find a missing Monet, a priceless Picasso or a cacophonous cuckoo clock but the antique shops and markets are brimming with arts, heirlooms, furniture and all manner of paraphernalia to grab your interest and your credit card.
There are shops and markets a plenty from Portobello Road in Londonís leafy Notting Hill to Fishguard on the south west coast of Wales in which there are millions of curios and collectors items waiting for a new home.
I hope you enjoy your treasure hunt and that you find these pages useful but if you need further help please feel free to email our helpline@heritagebritain.com and we will be delighted to help in anyway we can.
Antiques and Collectables by County
Antiques and Collectables in England
Bath | Bedfordshire | Berkshire | Bristol | Buckinghamshire | Cambridgeshire | Cheshire | Cornwall | Cumbria | Derbyshire | Essex | Gloucestershire | Leicestershire | London | Oxfordshire | Staffordshire | Suffolk | Wiltshire |
Antiques and Collectables in Scotland
County Links
England
| Bath | Bedfordshire | Berkshire | Birmingham | Bristol | Buckinghamshire | Cambridge | Cambridgeshire | Cheshire | Cleveland | Cornwall | Cumbria | Derbyshire | Devon | Dorset | Durham County | Essex | Gloucestershire | Hampshire | Herefordshire | Hertfordshire | Isle of Wight | Kent | Lancashire | Leicestershire | Lincolnshire | Liverpool | London | Manchester | Merseyside | Norfolk | Northamptonshire | Northumberland | Nottinghamshire | Oxford | Oxfordshire | Rutland | Shropshire | Somerset | Staffordshire | Suffolk | Surrey | Sussex | Tyne and Wear | Warwickshire | West Midlands | Wiltshire | Worcestershire | York | Yorkshire |
Scotland
Aberdeenshire | Angus | Argyll, Mull, Bute | Ayrshire | Dumfries and Galloway | Dunbartonshire | Dundee | Edinburgh | Falkirk | Fife | Glasgow | Highlands and Islands | Isle of Arran | Kincardineshire | Lanarkshire | Lothian | Moray | Orkney Islands | Perth and Kinross | Renfrewshire | Scottish Borders | Shetland Islands | Stirlingshire |
Wales
Anglesey (Isle of) | Bridgend | Caerphilly | Cardiff | Carmarthenshire | Ceredigion | Conwy | Denbighshire | Flintshire | Gwent | Gwynedd | Merthyr Tydfil | Monmouthshire | Neath Port Talbot | Newport | Pembrokeshire | Powys | Rhondda | Swansea | Torfaen | Vale of Glamorgan | Wrexham |
Northern Ireland
Antrim | Belfast | Down | Fermanagh | Londonderry | Tyrone |
Ireland
Cavan | Clare | Cork | Donegal | Dublin | Galway | Kerry | Kildare | Kilkenny | Leitrim | Limerick | Mayo | Meath | Sligo | Tipperary | Waterford | Westmeath | Wexford | Wicklow |
The Channel Islands and The Isle of Man