Ancestry, Family Trees & Heraldry.
---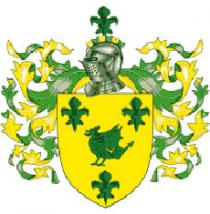 Heraldry On The Internet

Email: jawolf@earthlink.net

Heraldry on the Internet is designed to help you conduct heraldry research on the Internet. I have compiled as many links as I can find to the various sources of heraldic material available. You can look for a family name coat of arms used by someone with the same surname as you. Search for coats of arms for cities and towns or use Pimbley's Dictionary of Heraldry or one of the other dictionaries or glossaries listed to identify the various charges and symbols found on coats of arms.
---
Ancestry, Family Trees & Heraldry
1837 online.com | Achievements | All Family Tree | Ancestors | Ancestry | British Kings and Queens | Burkes Peerage and Gentry | Census Searches HI | Family Tree Magazine | Family Tree Maker | Family Tree Searcher | Free Coats of Arms | Genealogy | Genes Reunited | Heraldry On The Internet | My History | My Trees | One Great Family | Past Search | Scottish Roots | UK Genealogy | UKI search | Useful Ancestry Links | Victor Longhorn Family History Research |
County Links
England
| Bath | Bedfordshire | Berkshire | Birmingham | Bristol | Buckinghamshire | Cambridge | Cambridgeshire | Cheshire | Cleveland | Cornwall | Cumbria | Derbyshire | Devon | Dorset | Durham County | Essex | Gloucestershire | Hampshire | Herefordshire | Hertfordshire | Isle of Wight | Kent | Lancashire | Leicestershire | Lincolnshire | Liverpool | London | Manchester | Merseyside | Norfolk | Northamptonshire | Northumberland | Nottinghamshire | Oxford | Oxfordshire | Rutland | Shropshire | Somerset | Staffordshire | Suffolk | Surrey | Sussex | Tyne and Wear | Warwickshire | West Midlands | Wiltshire | Worcestershire | York | Yorkshire |
Scotland
Aberdeenshire | Angus | Argyll, Mull, Bute | Ayrshire | Dumfries and Galloway | Dunbartonshire | Dundee | Edinburgh | Falkirk | Fife | Glasgow | Highlands and Islands | Isle of Arran | Kincardineshire | Lanarkshire | Lothian | Moray | Orkney Islands | Perth and Kinross | Renfrewshire | Scottish Borders | Shetland Islands | Stirlingshire |
Wales
Anglesey (Isle of) | Bridgend | Caerphilly | Cardiff | Carmarthenshire | Ceredigion | Conwy | Denbighshire | Flintshire | Gwent | Gwynedd | Merthyr Tydfil | Monmouthshire | Neath Port Talbot | Newport | Pembrokeshire | Powys | Rhondda | Swansea | Torfaen | Vale of Glamorgan | Wrexham |
Northern Ireland
Antrim | Belfast | Down | Fermanagh | Londonderry | Tyrone |
Ireland
Cavan | Clare | Cork | Donegal | Dublin | Galway | Kerry | Kildare | Kilkenny | Leitrim | Limerick | Mayo | Meath | Sligo | Tipperary | Waterford | Westmeath | Wexford | Wicklow |
The Channel Islands and The Isle of Man