Gardens in Great Britain.
---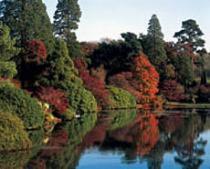 Sheffield Park Garden, Sheffield Park
The Gardens of Great Britain
With our temperate climate and southern and western shores being warmed by the gulf stream, the gardens of England, Scotland and Wales are arguable the most varied, colourful and impressive in Europe.
Cornwall is probably the busiest in terms of garden traffic with green fingered enthusiasts flocking to the many gardens scattered across the county including Eden Project, The National Trust Properties and many beautiful independent gardens besides - many of which are included in these pages.
The same applies to the rest of Britain with every county offering a warm welcome to the thousands of would be botanists passing through each year. Most of the gardens offer refreshments and plants sales too.
Should you not find a particular garden that you are looking for or have a query of any description, then please email our helpline@heritagebritain.com and we will help you in any way we can.
Gardens by County
Gardens in England
| Bath | Bedfordshire | Berkshire | Buckinghamshire | Cambridge | Cambridgeshire | Cheshire | Cornwall | Cumbria | Derbyshire | Devon | Dorset | Durham County | Essex | Gloucestershire | Hampshire | Herefordshire | Hertfordshire | Kent | Lancashire | Lincolnshire | London | Merseyside | Norfolk | Northamptonshire | Northumberland | Nottinghamshire | Oxfordshire | Rutland | Shropshire | Somerset | Staffordshire | Suffolk | Surrey | Sussex | Warwickshire | West Midlands | Wiltshire | Worcestershire | Yorkshire |
Gardens in Scotland
Aberdeenshire | Angus | Argyll, Mull, Bute | Ayrshire | Dumfries and Galloway | Fife | Highlands and Islands | Lothian | Perth and Kinross | Scottish Borders |
Gardens in Wales
Cardiff | Carmarthenshire | Ceredigion | Conwy | Gwynedd | Pembrokeshire | Powys |
Gardens in Ireland
County Links
England
| Bath | Bedfordshire | Berkshire | Birmingham | Bristol | Buckinghamshire | Cambridge | Cambridgeshire | Cheshire | Cleveland | Cornwall | Cumbria | Derbyshire | Devon | Dorset | Durham County | Essex | Gloucestershire | Hampshire | Herefordshire | Hertfordshire | Isle of Wight | Kent | Lancashire | Leicestershire | Lincolnshire | Liverpool | London | Manchester | Merseyside | Norfolk | Northamptonshire | Northumberland | Nottinghamshire | Oxford | Oxfordshire | Rutland | Shropshire | Somerset | Staffordshire | Suffolk | Surrey | Sussex | Tyne and Wear | Warwickshire | West Midlands | Wiltshire | Worcestershire | York | Yorkshire |
Scotland
Aberdeenshire | Angus | Argyll, Mull, Bute | Ayrshire | Dumfries and Galloway | Dunbartonshire | Dundee | Edinburgh | Falkirk | Fife | Glasgow | Highlands and Islands | Isle of Arran | Kincardineshire | Lanarkshire | Lothian | Moray | Orkney Islands | Perth and Kinross | Renfrewshire | Scottish Borders | Shetland Islands | Stirlingshire |
Wales
Anglesey (Isle of) | Bridgend | Caerphilly | Cardiff | Carmarthenshire | Ceredigion | Conwy | Denbighshire | Flintshire | Gwent | Gwynedd | Merthyr Tydfil | Monmouthshire | Neath Port Talbot | Newport | Pembrokeshire | Powys | Rhondda | Swansea | Torfaen | Vale of Glamorgan | Wrexham |
Northern Ireland
Antrim | Belfast | Down | Fermanagh | Londonderry | Tyrone |
Ireland
Cavan | Clare | Cork | Donegal | Dublin | Galway | Kerry | Kildare | Kilkenny | Leitrim | Limerick | Mayo | Meath | Sligo | Tipperary | Waterford | Westmeath | Wexford | Wicklow |
The Channel Islands and The Isle of Man