Ancestry, Family Trees & Heraldry.
---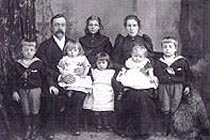 Achievements
80 Northgate
Cantebury
Kent
CT1 1BA
Tel: +44 (0)1227 462 618
Fax: +44 (0)1227 765 617
Email: achievements@achievements.co.uk
Web: www.achievements.co.uk/
Achievements was founded in 1961 to support The Institute of Heraldic and Genealogical Studies, through which our researchers train and qualify. It is the longest established company of professional Genealogists.
The Institute's extensive library holdings range from computerised finding aids to Tudor and Medieval manuscripts. We maintain a network of experts throughout the British Isles, the Commonwealth, America and Europe and have direct access to all the sources in the public domain which enable researchers to investigate family history.
---
Ancestry, Family Trees & Heraldry
1837 online.com | Achievements | All Family Tree | Ancestors | Ancestry | British Kings and Queens | Burkes Peerage and Gentry | Census Searches HI | Family Tree Magazine | Family Tree Maker | Family Tree Searcher | Free Coats of Arms | Genealogy | Genes Reunited | Heraldry On The Internet | My History | My Trees | One Great Family | Past Search | Scottish Roots | UK Genealogy | UKI search | Useful Ancestry Links | Victor Longhorn Family History Research |
County Links
England
| Bath | Bedfordshire | Berkshire | Birmingham | Bristol | Buckinghamshire | Cambridge | Cambridgeshire | Cheshire | Cleveland | Cornwall | Cumbria | Derbyshire | Devon | Dorset | Durham County | Essex | Gloucestershire | Hampshire | Herefordshire | Hertfordshire | Isle of Wight | Kent | Lancashire | Leicestershire | Lincolnshire | Liverpool | London | Manchester | Merseyside | Norfolk | Northamptonshire | Northumberland | Nottinghamshire | Oxford | Oxfordshire | Rutland | Shropshire | Somerset | Staffordshire | Suffolk | Surrey | Sussex | Tyne and Wear | Warwickshire | West Midlands | Wiltshire | Worcestershire | York | Yorkshire |
Scotland
Aberdeenshire | Angus | Argyll, Mull, Bute | Ayrshire | Clackmannanshire | Dumfries and Galloway | Dunbartonshire | Dundee | Edinburgh | Falkirk | Fife | Glasgow | Highlands and Islands | Isle of Arran | Kincardineshire | Lanarkshire | Lothian | Moray | Orkney Islands | Perth and Kinross | Renfrewshire | Scottish Borders | Shetland Islands | Stirlingshire |
Wales
Anglesey (Isle of) | Bridgend | Caerphilly | Cardiff | Carmarthenshire | Ceredigion | Conwy | Denbighshire | Flintshire | Gwent | Gwynedd | Merthyr Tydfil | Monmouthshire | Neath Port Talbot | Newport | Pembrokeshire | Powys | Rhondda | Swansea | Torfaen | Vale of Glamorgan | Wrexham |
Northern Ireland
Antrim | Armagh | Belfast | Down | Fermanagh | Londonderry | Tyrone |
Ireland
Carlow | Cavan | Clare | Cork | Donegal | Dublin | Galway | Kerry | Kildare | Kilkenny | Leitrim | Limerick | Longford | Louth | Mayo | Meath | Monaghan | Sligo | Tipperary | Waterford | Westmeath | Wexford | Wicklow |
The Channel Islands and The Isle of Man