Weddings and Honeymoons in Great Britain.
---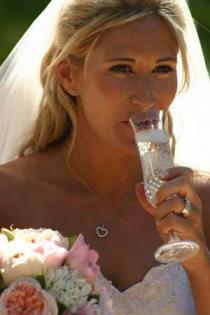 Perfect Day,
PERFECT DAY
Your perfect wedding and honeymoon is one of fulfilling dreams and expectations and within this section you will hopefully find the ideal setting to make your wedding day complete and your honeymoon a memorable one. Many stately homes, castles and hotels cater for civil wedding services and/or receptions and you will find the owners and staff eager to ensure that your wedding day flows without a hitch!
So where would your dream wedding take place? A magnificent Scottish Highland castle, a sprawling stately home in the Cotswolds or, perhaps, a splendid country house hotel in the New Forest?
This section of Heritage Britain will also provide you with many ideal HONEYMOON HOTELS too.
If you have a precise destination and requirements or if we might be able to be of some assistance then please email perfectday@heritagebritain.com and we will help point you in the right direction.
There will be more properties added weekly so please return to this section soon if, by chance, you haven't found your perfect venue.
Weddings and Honeymoons by County
Weddings and Honeymoons in England
Bath | Bedfordshire | Berkshire | Bristol | Buckinghamshire | Cambridgeshire | Cheshire | Cleveland | Cornwall | Cumbria | Derbyshire | Devon | Dorset | Durham County | Essex | Gloucestershire | Hampshire | Hertfordshire | Kent | Lancashire | Leicestershire | Lincolnshire | London | Norfolk | Northamptonshire | Northumberland | Nottinghamshire | Oxford | Oxfordshire | Rutland | Somerset | Suffolk | Surrey | Sussex | Warwickshire | West Midlands | Wiltshire | Worcestershire | York | Yorkshire |
Weddings and Honeymoons in Scotland
Aberdeenshire | Angus | Argyll, Mull, Bute | Ayrshire | Dumfries and Galloway | Falkirk | Fife | Highlands and Islands | Kincardineshire | Lanarkshire | Lothian | Moray | Perth and Kinross | Scottish Borders | Stirlingshire |
Weddings and Honeymoons in Wales
Conwy | Denbighshire | Flintshire | Gwynedd | Newport | Pembrokeshire | Powys |
Weddings and Honeymoons in Ireland
County Links
England
| Bath | Bedfordshire | Berkshire | Birmingham | Bristol | Buckinghamshire | Cambridge | Cambridgeshire | Cheshire | Cleveland | Cornwall | Cumbria | Derbyshire | Devon | Dorset | Durham County | Essex | Gloucestershire | Hampshire | Herefordshire | Hertfordshire | Isle of Wight | Kent | Lancashire | Leicestershire | Lincolnshire | Liverpool | London | Manchester | Merseyside | Norfolk | Northamptonshire | Northumberland | Nottinghamshire | Oxford | Oxfordshire | Rutland | Shropshire | Somerset | Staffordshire | Suffolk | Surrey | Sussex | Tyne and Wear | Warwickshire | West Midlands | Wiltshire | Worcestershire | York | Yorkshire |
Scotland
Aberdeenshire | Angus | Argyll, Mull, Bute | Ayrshire | Dumfries and Galloway | Dunbartonshire | Dundee | Edinburgh | Falkirk | Fife | Glasgow | Highlands and Islands | Isle of Arran | Kincardineshire | Lanarkshire | Lothian | Moray | Orkney Islands | Perth and Kinross | Renfrewshire | Scottish Borders | Shetland Islands | Stirlingshire |
Wales
Anglesey (Isle of) | Bridgend | Caerphilly | Cardiff | Carmarthenshire | Ceredigion | Conwy | Denbighshire | Flintshire | Gwent | Gwynedd | Merthyr Tydfil | Monmouthshire | Neath Port Talbot | Newport | Pembrokeshire | Powys | Rhondda | Swansea | Torfaen | Vale of Glamorgan | Wrexham |
Northern Ireland
Antrim | Belfast | Down | Fermanagh | Londonderry | Tyrone |
Ireland
Cavan | Clare | Cork | Donegal | Dublin | Galway | Kerry | Kildare | Kilkenny | Leitrim | Limerick | Mayo | Meath | Sligo | Tipperary | Waterford | Westmeath | Wexford | Wicklow |
The Channel Islands and The Isle of Man