Castles in Great Britain.
---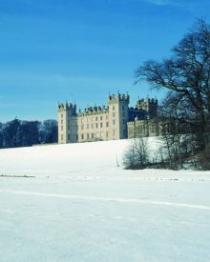 Floors Castle, Kelso
English jurist Sir Edward Coke (1552-1634) was once quoted as saying: 'For a man's house is his castle, et domus sua cuique tutissimum refugium' and if you were to travel across the length and breadth of Britain there are literally thousands of castles to explore of all ages, shapes, sizes and condition. Many of them were erected between the 11th and 15th centuries and were built as a fortress to defend the coast or border country against the enemy. Each and every one has a myriad of stories to recount - some are derelict and awaiting a costly overhaul but most are standing in all their grandeur awaiting your discovery. They are hired out for weddings and other special functions, sometimes used as conferences centres and, of course, many are used as fantastic film locations but most importantly they are open to the public to discover and enjoy at your leisure.
If you require any information that you canít find within these pages then please email our helpline@heritagebritain.com and we will help in any way we can.
Castles by County
Castles in England
Berkshire | Bristol | Cambridgeshire | Cheshire | Cornwall | Cumbria | Derbyshire | Devon | Dorset | Durham County | Essex | Gloucestershire | Hampshire | Herefordshire | Hertfordshire | Kent | Lancashire | Leicestershire | Lincolnshire | London | Norfolk | Northamptonshire | Northumberland | Nottinghamshire | Oxfordshire | Rutland | Somerset | Staffordshire | Suffolk | Surrey | Sussex | Warwickshire | Worcestershire | Yorkshire |
Castles in Scotland
Aberdeenshire | Angus | Argyll, Mull, Bute | Ayrshire | Dumfries and Galloway | Dunbartonshire | Edinburgh | Fife | Highlands and Islands | Lothian | Perth and Kinross | Scottish Borders |
Castles in Wales
Anglesey (Isle of) | Cardiff | Carmarthenshire | Ceredigion | Conwy | Denbighshire | Gwent | Gwynedd | Monmouthshire | Pembrokeshire | Powys | Swansea | Vale of Glamorgan | Wrexham |
Castles in Northern Ireland
Antrim |
Castles in Ireland
Cork | Dublin | Galway | Kilkenny |
Castles in The Channel Islands and The Isle of Man
County Links
England
| Bath | Bedfordshire | Berkshire | Birmingham | Bristol | Buckinghamshire | Cambridge | Cambridgeshire | Cheshire | Cleveland | Cornwall | Cumbria | Derbyshire | Devon | Dorset | Durham County | Essex | Gloucestershire | Hampshire | Herefordshire | Hertfordshire | Isle of Wight | Kent | Lancashire | Leicestershire | Lincolnshire | Liverpool | London | Manchester | Merseyside | Norfolk | Northamptonshire | Northumberland | Nottinghamshire | Oxford | Oxfordshire | Rutland | Shropshire | Somerset | Staffordshire | Suffolk | Surrey | Sussex | Tyne and Wear | Warwickshire | West Midlands | Wiltshire | Worcestershire | York | Yorkshire |
Scotland
Aberdeenshire | Angus | Argyll, Mull, Bute | Ayrshire | Dumfries and Galloway | Dunbartonshire | Dundee | Edinburgh | Falkirk | Fife | Glasgow | Highlands and Islands | Isle of Arran | Kincardineshire | Lanarkshire | Lothian | Moray | Orkney Islands | Perth and Kinross | Renfrewshire | Scottish Borders | Shetland Islands | Stirlingshire |
Wales
Anglesey (Isle of) | Bridgend | Caerphilly | Cardiff | Carmarthenshire | Ceredigion | Conwy | Denbighshire | Flintshire | Gwent | Gwynedd | Merthyr Tydfil | Monmouthshire | Neath Port Talbot | Newport | Pembrokeshire | Powys | Rhondda | Swansea | Torfaen | Vale of Glamorgan | Wrexham |
Northern Ireland
Antrim | Belfast | Down | Fermanagh | Londonderry | Tyrone |
Ireland
Cavan | Clare | Cork | Donegal | Dublin | Galway | Kerry | Kildare | Kilkenny | Leitrim | Limerick | Mayo | Meath | Sligo | Tipperary | Waterford | Westmeath | Wexford | Wicklow |
The Channel Islands and The Isle of Man