The county of Berkshire, England
---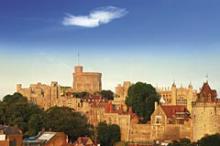 Windsor Castle
The county of Berkshire lies to the west of London with its eastern boundary adjacent to Greater London. It stretches some 60 miles westwards to the Wiltshire border, with Oxfordshire and Buckinghamshire to the north.

Berkshire is famous for its Castle at Windsor, Eton College and horse racing at Royal Ascot as well as the many picturesque villages and historic houses that are waiting to be enjoyed.

Eastern Berkshire is relatively urbanised whilst the west is rural in character. The River Thames runs along the Northern boundary and the area - together with those counties that also have a boundary with the river, Oxfordshire and Buckinghamshire - is commonly referred to as the Thames Valley.
Where to stay and things to do in Berkshire
Hotels | Bed and Breakfast | Pubs and Inns | Places to Visit | Antiques and Collectables | Museums and Art Galleries | Arts, Crafts and Fairs | Gardens | Castles | Weddings and Honeymoons | Conferences, Seminars and Corporate Events | Nature Reserves | Restaurants | Tourist Information Centres | Berkshire Towns | Historic Berkshire
Selected Berkshire hotels - Please Refresh for another random Hotel list

Cliveden Hotel, Taplow
Cantley House Hotel
, Wokingham
Dundas Arms
, Kintbury
Cantley House Hotel
, Wokingham
Calcot Hotel
, Reading
Royal Oak Yattendon
, Newbury
The Bear Hotel at Hungerford
, Hungerford
The Swan At Streatley
, Streatley-on-Thames
Number 18
, Reading
Holiday Inn Maidenhead-Windsor
, Maidenhead
George Hotel
, Reading
Click For List of all UK Counties
Explore Berkshire Towns
Aldermaston | Aldworth | Ascot | Ashmore Green | Beenham | Binfield | Boxford | Bracknell | Bracknell Forest | Bray | Bray-on-Thames | Burnham | Chaddleworth | Chieveley | Cookham | Cookham Dean | Cookham Rise | Cookham-on-Thames | Crazies Hill | Datchet | East Garston | East Ilsley | Eton | Frilsham | Hampstead Norreys | Hare Hatch | Hungerford | Hurley | Hurst | Kintbury | Knowl Hill | Lambourn | Lambourne | Littlewick Green | Maidenhead | Marsh Benham | Newbury | Nr Reading | Oxford | Pangbourne | Peasmore | Poyle | Reading | Riseley | Sandhurst | Slough | Sonning | Sonning-on-Thames | South Ascot | Standford Dingley | Stanford Dingley | Stockcross | Streatley | Streatley-on-Thames | Sunningdale | Swallowfield | Taplow | Thatcham | Theale | Waltham St Lawrence | Warfield | West Ilsley | White Waltham | Windor | Windsor | Winkfield | Winterbourne | Wokingham | Woolhampton | Worlds End | Yattendon |
Berkshire Tourist Information Centres
Maidenhead Tourist Information Centre
St Ives Road
Maidenhead
Berkshire
Tel: +44 (0) 1628 796 502
email: click here
Website: click here

Newbury Tourist Information Centre
The Wharf,
Newbury
Tel: +44 (0) 1635 30267
email: click here
Website: click here

Reading Tourist Information Centre
Blagrave Street
Reading
Tel: +44 (0) 1189 566 226

Marlow Tourist Information Centre
31 High Street
Marlow
Tel: +44 (0) 1628 483 597

Windsor Tourist Information Centre
Old Booking Hall
Windsor Royal Shopping
Thames Street
Windsor
Berkshire
Tel: +44 (0) 1753 743900
email: click here
Website: click here

Wendover Tourist Information Centre
The Clock Tower
High Street
Wendover
Tel: +44 (0) 1296 696759
Website: click here

Famous people born, lived or buried in Berkshire
Herbert Asquith
Lord Oxford and Asquith, Prime Minister, lived at Sutton Courtenay

William Backhouse
Lived at SwaHowfteld and invented a pedometer in 1628.

Sir Benjamin Baker
Builder of the Forth Bridge, lived at Pangbourne.

St.Thomas a Becket
Consecrated Reading Abbey in 1168.

R. D. Blackmore
Author of "Lorna Doone" was born at Longworth.

Lewis Carrol
Author of "Alice in Wonderland" visited Cranbourne Vicarage.

Thomas Chaucer
Son of the poet, lived at Buckland House in the 15th Century.

Dick Francis
Champion rider and author of racing novels, lives at Blewbury.

David Hartley
Signatory to the Peace Treaty between Great Britain and the U.S-A. in 1783, owned East Shefford.

Sir William Jones
Attorney General to Charles II, owned Weston in 1679. He is remembered as "bull-faced Jonas" in Dryden's "Absolom and Ahitophel".

Sir Thomas More
Chancellor to Henry VIII, Roman Catholic Saint and Martyr. His descendants still live at East Hendred.

Ivor Novello
Actor and composer, wrote "Perchance to Dream", while living at Red Roofs, Littlewick Green.

George Orwell
Author of "Animal Farm", is buried at Sutton Courtenay.

William Penn
Founder of Pennsylvania, U.S.A., was born and lived at Ruscombe. He was a Quaker who went to America in 1668 to escape from religious persecution.

Miss Baden-Powell
Founded the Girl Guide movement at Pinkneys Green in 1910.

Alice, Duchess of Suffolk
Changed sides in the Wars of the Roses, and became Custodian of Wallingford Castle.

Dean Swift
Author of "Gulliver's Travels" was a frequent visitor to the Rectory at Letcombe Bassett.

John Walter
Founder of The Times newspaper, lived at Bearwood, Wokingham.

Lord Zetland
Secretary of State for India in 1939, lived at Snelsmore.

County Links
England
| Bath | Bedfordshire | Berkshire | Birmingham | Bristol | Buckinghamshire | Cambridge | Cambridgeshire | Cheshire | Cleveland | Cornwall | Cumbria | Derbyshire | Devon | Dorset | Durham County | Essex | Gloucestershire | Hampshire | Herefordshire | Hertfordshire | Isle of Wight | Kent | Lancashire | Leicestershire | Lincolnshire | Liverpool | London | Manchester | Merseyside | Norfolk | Northamptonshire | Northumberland | Nottinghamshire | Oxford | Oxfordshire | Rutland | Shropshire | Somerset | Staffordshire | Suffolk | Surrey | Sussex | Tyne and Wear | Warwickshire | West Midlands | Wiltshire | Worcestershire | York | Yorkshire |
Scotland
Aberdeenshire | Angus | Argyll, Mull, Bute | Ayrshire | Dumfries and Galloway | Dunbartonshire | Dundee | Edinburgh | Falkirk | Fife | Glasgow | Highlands and Islands | Isle of Arran | Kincardineshire | Lanarkshire | Lothian | Moray | Orkney Islands | Perth and Kinross | Renfrewshire | Scottish Borders | Shetland Islands | Stirlingshire |
Wales
Anglesey (Isle of) | Bridgend | Caerphilly | Cardiff | Carmarthenshire | Ceredigion | Conwy | Denbighshire | Flintshire | Gwent | Gwynedd | Merthyr Tydfil | Monmouthshire | Neath Port Talbot | Newport | Pembrokeshire | Powys | Rhondda | Swansea | Torfaen | Vale of Glamorgan | Wrexham |
Northern Ireland
Antrim | Belfast | Down | Fermanagh | Londonderry | Tyrone |
Ireland
Cavan | Clare | Cork | Donegal | Dublin | Galway | Kerry | Kildare | Kilkenny | Leitrim | Limerick | Mayo | Meath | Sligo | Tipperary | Waterford | Westmeath | Wexford | Wicklow |
The Channel Islands and The Isle of Man