Ancestry, Family Trees & Heraldry.
---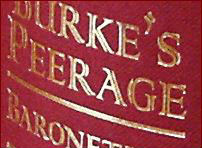 Burkes Peerage and Gentry
Millennium Court
Ellerbeck Way
Stokesley
North Yorkshire
United Kingdom
TS9 5JZ
Tel: +44 (0)1642 713530
Email: help@burkes-peerage.net
Web: www.burkes-peerage.net
Burke's Landed Gentry has documented the history and lineage of key families within the United Kingdom and Ireland since the 1820's. This new edition, marks a radical departure from the original history of the publication, for as well as the traditional hard back volume, the complete records are available electronically on the Internet, through regional portals such as this, the Scottish web site.
---
Ancestry, Family Trees & Heraldry
1837 online.com | Achievements | All Family Tree | Ancestors | Ancestry | British Kings and Queens | Burkes Peerage and Gentry | Census Searches HI | Family Tree Magazine | Family Tree Maker | Family Tree Searcher | Free Coats of Arms | Genealogy | Genes Reunited | Heraldry On The Internet | My History | My Trees | One Great Family | Past Search | Scottish Roots | UK Genealogy | UKI search | Useful Ancestry Links | Victor Longhorn Family History Research |
County Links
England
| Bath | Bedfordshire | Berkshire | Birmingham | Bristol | Buckinghamshire | Cambridge | Cambridgeshire | Cheshire | Cleveland | Cornwall | Cumbria | Derbyshire | Devon | Dorset | Durham County | Essex | Gloucestershire | Hampshire | Herefordshire | Hertfordshire | Isle of Wight | Kent | Lancashire | Leicestershire | Lincolnshire | Liverpool | London | Manchester | Merseyside | Norfolk | Northamptonshire | Northumberland | Nottinghamshire | Oxford | Oxfordshire | Rutland | Shropshire | Somerset | Staffordshire | Suffolk | Surrey | Sussex | Tyne and Wear | Warwickshire | West Midlands | Wiltshire | Worcestershire | York | Yorkshire |
Scotland
Aberdeenshire | Angus | Argyll, Mull, Bute | Ayrshire | Clackmannanshire | Dumfries and Galloway | Dunbartonshire | Dundee | Edinburgh | Falkirk | Fife | Glasgow | Highlands and Islands | Isle of Arran | Kincardineshire | Lanarkshire | Lothian | Moray | Orkney Islands | Perth and Kinross | Renfrewshire | Scottish Borders | Shetland Islands | Stirlingshire |
Wales
Anglesey (Isle of) | Bridgend | Caerphilly | Cardiff | Carmarthenshire | Ceredigion | Conwy | Denbighshire | Flintshire | Gwent | Gwynedd | Merthyr Tydfil | Monmouthshire | Neath Port Talbot | Newport | Pembrokeshire | Powys | Rhondda | Swansea | Torfaen | Vale of Glamorgan | Wrexham |
Northern Ireland
Antrim | Armagh | Belfast | Down | Fermanagh | Londonderry | Tyrone |
Ireland
Carlow | Cavan | Clare | Cork | Donegal | Dublin | Galway | Kerry | Kildare | Kilkenny | Leitrim | Limerick | Longford | Louth | Mayo | Meath | Monaghan | Sligo | Tipperary | Waterford | Westmeath | Wexford | Wicklow |
The Channel Islands and The Isle of Man