Cathedrals in Great Britain.
---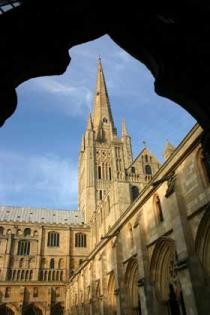 Norwich Cathedral, Norwich
Great Britain is proud to boast 56 Cathedrals across England, Scotland and Wales.
The classification of a church building as a cathedral is completely independent of its size, age, beauty or importance to the nation. The sole determinant of its status is whether or not the church contains the seat of a bishop. For example, Westminster Abbey is a great and beautiful church. Royal weddings have been held there and kings have been crowned there since William the Conqueror in 1066, but it is not a cathedral since it does not contain a bishop's throne. On the other hand, Christ Church in Oxford is not at all large, but since a bishop resides there, it is a cathedral. If a building does not contain the seat of a bishop, then the building is either an abbey or a parish church
It matters not whether you are religious, most cathedrals are architectural master pieces and well worth visiting should you be visiting one of our cities.
England has 42 cathedrals, Scotland has 8 and Wales 6
Cathedrals by County
Cathedrals in England
Cambridgeshire | Cheshire | Cornwall | Cumbria | Devon | Dorset | Durham County | Essex | Gloucestershire | Hampshire | Herefordshire | Hertfordshire | Kent | Lancashire | Lincolnshire | London | Merseyside | Norfolk | Nottinghamshire | Oxfordshire | Somerset | Staffordshire | Suffolk | Surrey | Sussex | Tyne and Wear | West Midlands | Wiltshire | Worcestershire | Yorkshire |
Cathedrals in Scotland
Aberdeenshire | Fife | Lothian | Perth and Kinross |
Cathedrals in Wales
Denbighshire | Pembrokeshire |
County Links
England
| Bath | Bedfordshire | Berkshire | Birmingham | Bristol | Buckinghamshire | Cambridge | Cambridgeshire | Cheshire | Cleveland | Cornwall | Cumbria | Derbyshire | Devon | Dorset | Durham County | Essex | Gloucestershire | Hampshire | Herefordshire | Hertfordshire | Isle of Wight | Kent | Lancashire | Leicestershire | Lincolnshire | Liverpool | London | Manchester | Merseyside | Norfolk | Northamptonshire | Northumberland | Nottinghamshire | Oxford | Oxfordshire | Rutland | Shropshire | Somerset | Staffordshire | Suffolk | Surrey | Sussex | Tyne and Wear | Warwickshire | West Midlands | Wiltshire | Worcestershire | York | Yorkshire |
Scotland
Aberdeenshire | Angus | Argyll, Mull, Bute | Ayrshire | Dumfries and Galloway | Dunbartonshire | Dundee | Edinburgh | Falkirk | Fife | Glasgow | Highlands and Islands | Isle of Arran | Kincardineshire | Lanarkshire | Lothian | Moray | Orkney Islands | Perth and Kinross | Renfrewshire | Scottish Borders | Shetland Islands | Stirlingshire |
Wales
Anglesey (Isle of) | Bridgend | Caerphilly | Cardiff | Carmarthenshire | Ceredigion | Conwy | Denbighshire | Flintshire | Gwent | Gwynedd | Merthyr Tydfil | Monmouthshire | Neath Port Talbot | Newport | Pembrokeshire | Powys | Rhondda | Swansea | Torfaen | Vale of Glamorgan | Wrexham |
Northern Ireland
Antrim | Belfast | Down | Fermanagh | Londonderry | Tyrone |
Ireland
Cavan | Clare | Cork | Donegal | Dublin | Galway | Kerry | Kildare | Kilkenny | Leitrim | Limerick | Mayo | Meath | Sligo | Tipperary | Waterford | Westmeath | Wexford | Wicklow |
The Channel Islands and The Isle of Man