Places to Visit in Great Britain.
---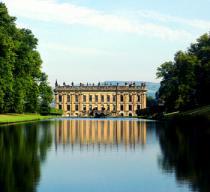 Chatsworth, Bakewell
If you are a regular UK itinerant you will, I'm sure, have already visited various stately homes, , manor houses and gardens which are open for the public to enjoy. Our cities and countryside are awash with British treasures, rich in heritage and awaiting your visit. So whether you're UK based or visiting abroad you will find plenty within this section to keep captivate you.
If there is anything you particularly require that you can't find, email our helpline@heritagebritain.com with your query in the subject box and we will do our utmost to help you find it.
Finally, thank you for your visit, please bookmark the page for yourself or friends and please mention THE HERITAGE BRITAIN WEB SITE if you contact anyone directly.
Places to Visit by County
Places to Visit in England
| Bath | Bedfordshire | Berkshire | Bristol | Buckinghamshire | Cambridge | Cambridgeshire | Cheshire | Cornwall | Cumbria | Derbyshire | Devon | Dorset | Durham County | Essex | Gloucestershire | Hampshire | Herefordshire | Hertfordshire | Kent | Lancashire | Leicestershire | Lincolnshire | London | Merseyside | Norfolk | Northamptonshire | Northumberland | Nottinghamshire | Oxfordshire | Rutland | Shropshire | Somerset | Staffordshire | Suffolk | Surrey | Sussex | Tyne and Wear | Warwickshire | West Midlands | Wiltshire | Worcestershire | Yorkshire |
Places to Visit in Scotland
Aberdeenshire | Angus | Argyll, Mull, Bute | Ayrshire | Dumfries and Galloway | Dunbartonshire | Edinburgh | Falkirk | Fife | Glasgow | Highlands and Islands | Lanarkshire | Lothian | Moray | Perth and Kinross | Scottish Borders | Stirlingshire |
Places to Visit in Wales
Anglesey (Isle of) | Bridgend | Cardiff | Carmarthenshire | Ceredigion | Conwy | Denbighshire | Flintshire | Gwent | Gwynedd | Merthyr Tydfil | Monmouthshire | Newport | Pembrokeshire | Powys | Swansea | Torfaen | Vale of Glamorgan | Wrexham |
Places to Visit in Northern Ireland
Antrim |
Places to Visit in Ireland
Clare | Cork | Dublin | Galway | Kerry | Kilkenny | Limerick | Wicklow |
Places to Visit in The Channel Islands and The Isle of Man
Channel Islands | The Isle of Man |
County Links
England
| Bath | Bedfordshire | Berkshire | Birmingham | Bristol | Buckinghamshire | Cambridge | Cambridgeshire | Cheshire | Cleveland | Cornwall | Cumbria | Derbyshire | Devon | Dorset | Durham County | Essex | Gloucestershire | Hampshire | Herefordshire | Hertfordshire | Isle of Wight | Kent | Lancashire | Leicestershire | Lincolnshire | Liverpool | London | Manchester | Merseyside | Norfolk | Northamptonshire | Northumberland | Nottinghamshire | Oxford | Oxfordshire | Rutland | Shropshire | Somerset | Staffordshire | Suffolk | Surrey | Sussex | Tyne and Wear | Warwickshire | West Midlands | Wiltshire | Worcestershire | York | Yorkshire |
Scotland
Aberdeenshire | Angus | Argyll, Mull, Bute | Ayrshire | Dumfries and Galloway | Dunbartonshire | Dundee | Edinburgh | Falkirk | Fife | Glasgow | Highlands and Islands | Isle of Arran | Kincardineshire | Lanarkshire | Lothian | Moray | Orkney Islands | Perth and Kinross | Renfrewshire | Scottish Borders | Shetland Islands | Stirlingshire |
Wales
Anglesey (Isle of) | Bridgend | Caerphilly | Cardiff | Carmarthenshire | Ceredigion | Conwy | Denbighshire | Flintshire | Gwent | Gwynedd | Merthyr Tydfil | Monmouthshire | Neath Port Talbot | Newport | Pembrokeshire | Powys | Rhondda | Swansea | Torfaen | Vale of Glamorgan | Wrexham |
Northern Ireland
Antrim | Belfast | Down | Fermanagh | Londonderry | Tyrone |
Ireland
Cavan | Clare | Cork | Donegal | Dublin | Galway | Kerry | Kildare | Kilkenny | Leitrim | Limerick | Mayo | Meath | Sligo | Tipperary | Waterford | Westmeath | Wexford | Wicklow |
The Channel Islands and The Isle of Man