The county of Herefordshire, England
---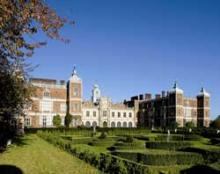 Eastnor Castle
, Ledbury
The county of Herefordshire is situated in the west of England 0n the border Wales and Offa's Dyke. To the north is Shropshire and to the South and East are Gloucestershire and Worcestershire respectively.

Herefordshire, set in The Marches, is one of the most beautiful unspoilt counties in Britain. Farming has always been the basis of Herefordshire life, and today's visitors will find the small fields, hedgerows and orchards which are quintessentially English and still famous for producing cider apples, perry pears and soft fruits - not forgetting the famous breed of hereford cattle.There are a plethora of picturesque villages dotted around the county which seem little altered since the Tudors.

The peaceful countryside and and quiet pace of life belie the turbulent and often violent history of the region. One of the earliest and most abiding memorials to that history is Offa's Dyke the great 8th century earthwork thrown up to mark the border.
There are a plethora of hisoric attractions and heritage sites to visit in Herefordshire including the magnificent Eastnor Castle near Ledbury and Goodrich Castle in Ross-on-Wye.

Where to stay and things to do in Herefordshire
Hotels | Bed and Breakfast | Pubs and Inns | Places to Visit | Arts, Crafts and Fairs | Gardens | Castles | Cathedrals | Restaurants | Tourist Information Centres | Herefordshire Towns
Selected Herefordshire hotels - Please Refresh for another random Hotel list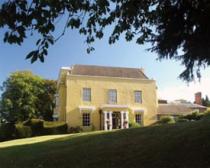 ,
Kings Head Hotel
, Ross on Wye, Herefordshire
Mortimers Cross Inn
, Leominster, Herefordshire
Alberta Guest House
, Hereford, Herefordshire
Bestwestern Talbot Hotel
, Leominster
Munstone House Hotel
, Hereford
Belmont Lodge & Golf
, Hereford
Brandon Lodge
, Hereford
Green Dragon
, Hereford
Falcon Hotel
, Bromyard
Bridge House Hotel
, Ross On Wye
Click For List of all UK Counties
Explore Herefordshire Towns
Abbey Dore | Adforton | Ashwell | Aymestrey | Bodenham | Bringsty | Brockhampton | Bromyard | Canon Pyon | Craswall | Dormington | Dorstone | Fownhope | Goodrich | Hampton Bishop | Hereford | Hereford, Herefordshire | HR1 4QP | Kimbolton | Kingston | Kington | Ledbury | Leominster | Leominster, Herefordshire | Linton | Little Cowarne | Little Dewchurch | Lugwardine | Moccas | Mordiford | Much Cowarne | Much Marcle | Nr Ross-on-Wye | Orleton | Pembridge | Peterchurch | Ross On Wye | Ross on Wye, Herefordshire | Ross-on-Wye | Shobdon | Swainshill | Symonds Yat | Symonds Yat (East) | Symonds Yat (West) | Tillington | Ullingswick | Vowchurch | Walterstone | Wellington | Weobley | Whitchurch | Whitney-on-Wye | Winforton | Woohope | Yarkhill |
Herefordshire Tourist Information Centres
Bromyard Tourist Information Centre
Heritage Centre
1 Rowberry St.
Tel: +44 (0) 1885 482033
Fax: +44 (0)1885 260053

Hereford Tourist Information Centre
1 King Street
Tel: +44 (0) 1432 268430
Fax:+44 (0)1432 342662
email: click here

Ledbury Tourist Information Centre
3 The Homend
Tel: +44 (0) 1531 636147
Fax: +44 (0)1531 634313

Leominster Tourist Information Centre
1 Corn Square
Tel: +44 (0) 1568 616460
Fax: +44 (0)1568 615546

Queenswood Tourist Information Centre
Queenswood Country Park
Dinmore Hill,
Leominster
Tel: +44 (0) 1568 797842

Ross-On-Wye Tourist Information Centre
Swan House,
Edde Cross Street
Tel: +44 (0) 1989 562768
Fax: +44 (0)1989 565057

County Links
England
| Bath | Bedfordshire | Berkshire | Birmingham | Bristol | Buckinghamshire | Cambridge | Cambridgeshire | Cheshire | Cleveland | Cornwall | Cumbria | Derbyshire | Devon | Dorset | Durham County | Essex | Gloucestershire | Hampshire | Herefordshire | Hertfordshire | Isle of Wight | Kent | Lancashire | Leicestershire | Lincolnshire | Liverpool | London | Manchester | Merseyside | Norfolk | Northamptonshire | Northumberland | Nottinghamshire | Oxford | Oxfordshire | Rutland | Shropshire | Somerset | Staffordshire | Suffolk | Surrey | Sussex | Tyne and Wear | Warwickshire | West Midlands | Wiltshire | Worcestershire | York | Yorkshire |
Scotland
Aberdeenshire | Angus | Argyll, Mull, Bute | Ayrshire | Dumfries and Galloway | Dunbartonshire | Dundee | Edinburgh | Falkirk | Fife | Glasgow | Highlands and Islands | Isle of Arran | Kincardineshire | Lanarkshire | Lothian | Moray | Orkney Islands | Perth and Kinross | Renfrewshire | Scottish Borders | Shetland Islands | Stirlingshire |
Wales
Anglesey (Isle of) | Bridgend | Caerphilly | Cardiff | Carmarthenshire | Ceredigion | Conwy | Denbighshire | Flintshire | Gwent | Gwynedd | Merthyr Tydfil | Monmouthshire | Neath Port Talbot | Newport | Pembrokeshire | Powys | Rhondda | Swansea | Torfaen | Vale of Glamorgan | Wrexham |
Northern Ireland
Antrim | Belfast | Down | Fermanagh | Londonderry | Tyrone |
Ireland
Cavan | Clare | Cork | Donegal | Dublin | Galway | Kerry | Kildare | Kilkenny | Leitrim | Limerick | Mayo | Meath | Sligo | Tipperary | Waterford | Westmeath | Wexford | Wicklow |
The Channel Islands and The Isle of Man