Castles in Pembrokeshire, Wales.
---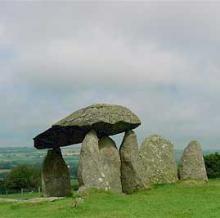 Pentre Ifan, Nevern
The county of Pembrokeshire is situated on the South west Welsh Peninsula with Carmarthenshire and Ceredigion as its neighbours. This county has a glorious lengthy sandy coastline washed by the Gulf Stream and very popular for tourists from Wales and beyond.
Pembrokeshire is arguably most famous for Pentre Ifan, a splendid Bronze Age megalithic site dating back to around 4000 B.C. Pentre Ifan ('the homestead of Ifan') is a burial chamber with three stones holding up a capstone estimated to weigh around 16 tons and the complete structure 36 metres long.
Nearby are The Preseli hills, often referred to as the Bluestone area of Pembrokeshire which was the source of Bluestone hauled to Salisbury Plain for the erection of Stonehenge. The Preseli Hills, although an extremely interesting area historically it is also well known for its wonderful walks, countryside and breathtaking scenery. Hill sheep and Welsh ponies graze freely on the hill side, wildlife and numerous birds inhabit the area making it popular with ornithologists, as well as botanists, archaeologists and artists.
Apart from the aforementioned places to visit, Pembrokeshire has many attractions and heritage sites to offer including:- Colby Woodland Garden (Narberth), Cresselly (Kilgetty), Pembroke Castle, Picton Castle (Haverfordwest).

Castles in Pembrokeshire
Click For List of all UK Counties
Where to stay and things to do in Pembrokeshire
Hotels | Bed and Breakfast | Pubs and Inns | Self Catering | Places to Visit | Gardens | Castles | Cathedrals | Weddings and Honeymoons | Conferences, Seminars and Corporate Events | Restaurants |
County Links
England
| Bath | Bedfordshire | Berkshire | Birmingham | Bristol | Buckinghamshire | Cambridge | Cambridgeshire | Cheshire | Cleveland | Cornwall | Cumbria | Derbyshire | Devon | Dorset | Durham County | Essex | Gloucestershire | Hampshire | Herefordshire | Hertfordshire | Isle of Wight | Kent | Lancashire | Leicestershire | Lincolnshire | Liverpool | London | Manchester | Merseyside | Norfolk | Northamptonshire | Northumberland | Nottinghamshire | Oxford | Oxfordshire | Rutland | Shropshire | Somerset | Staffordshire | Suffolk | Surrey | Sussex | Tyne and Wear | Warwickshire | West Midlands | Wiltshire | Worcestershire | York | Yorkshire |
Scotland
Aberdeenshire | Angus | Argyll, Mull, Bute | Ayrshire | Dumfries and Galloway | Dunbartonshire | Dundee | Edinburgh | Falkirk | Fife | Glasgow | Highlands and Islands | Isle of Arran | Kincardineshire | Lanarkshire | Lothian | Moray | Orkney Islands | Perth and Kinross | Renfrewshire | Scottish Borders | Shetland Islands | Stirlingshire |
Wales
Anglesey (Isle of) | Bridgend | Caerphilly | Cardiff | Carmarthenshire | Ceredigion | Conwy | Denbighshire | Flintshire | Gwent | Gwynedd | Merthyr Tydfil | Monmouthshire | Neath Port Talbot | Newport | Pembrokeshire | Powys | Rhondda | Swansea | Torfaen | Vale of Glamorgan | Wrexham |
Northern Ireland
Antrim | Belfast | Down | Fermanagh | Londonderry | Tyrone |
Ireland
Cavan | Clare | Cork | Donegal | Dublin | Galway | Kerry | Kildare | Kilkenny | Leitrim | Limerick | Mayo | Meath | Sligo | Tipperary | Waterford | Westmeath | Wexford | Wicklow |
The Channel Islands and The Isle of Man