Gardens in Surrey, England.
---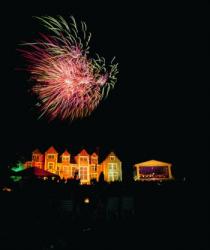 Loseley Park
, Guildford, Surrey
Surrey is situated in the south east of England with London to the north, Kent to the east, Sussex to the south Surrey and Hampshire and Berkshire to the East
The south east of England, has long been important to English Kings and before the Norman invasion Anglo-Saxon Kings were crowned at Kingston-upon-Thames.
A little further down the river King John signed the Magna Carta at Runnymede (a memorial is now erected there) and at Hampton Court Palace, Henry VIII used the Thames to his full advantage.
Whilst Surrey is a relatively small county it has still 'lost' lots of territory to London, it still retains much unspoilt countryside and a true rural feel with narrowlanes and country pubs full of character, it is hard to imagine that one is so close the England's capital city.
There are many historic attractions to visit including Loseley Park (Guildford), Hampton Court Palace, Clandon Park (Guildford), Painshill Park (Cobham), Claremont Garden (Esher), Polesden Lacy (Dorking) and many others.
Gardens in Surrey
Click For List of all UK Counties
Where to stay and things to do in Surrey
Hotels | Bed and Breakfast | Pubs and Inns | Places to Visit | Museums and Art Galleries | Arts, Crafts and Fairs | Gardens | Castles | Cathedrals | Weddings and Honeymoons | Apartments | Conferences, Seminars and Corporate Events | Nature Reserves | Health Spas | Restaurants | Animal Sanctuaries | Historic Surrey
County Links
England
| Bath | Bedfordshire | Berkshire | Birmingham | Bristol | Buckinghamshire | Cambridge | Cambridgeshire | Cheshire | Cleveland | Cornwall | Cumbria | Derbyshire | Devon | Dorset | Durham County | Essex | Gloucestershire | Hampshire | Herefordshire | Hertfordshire | Isle of Wight | Kent | Lancashire | Leicestershire | Lincolnshire | Liverpool | London | Manchester | Merseyside | Norfolk | Northamptonshire | Northumberland | Nottinghamshire | Oxford | Oxfordshire | Rutland | Shropshire | Somerset | Staffordshire | Suffolk | Surrey | Sussex | Tyne and Wear | Warwickshire | West Midlands | Wiltshire | Worcestershire | York | Yorkshire |
Scotland
Aberdeenshire | Angus | Argyll, Mull, Bute | Ayrshire | Dumfries and Galloway | Dunbartonshire | Dundee | Edinburgh | Falkirk | Fife | Glasgow | Highlands and Islands | Isle of Arran | Kincardineshire | Lanarkshire | Lothian | Moray | Orkney Islands | Perth and Kinross | Renfrewshire | Scottish Borders | Shetland Islands | Stirlingshire |
Wales
Anglesey (Isle of) | Bridgend | Caerphilly | Cardiff | Carmarthenshire | Ceredigion | Conwy | Denbighshire | Flintshire | Gwent | Gwynedd | Merthyr Tydfil | Monmouthshire | Neath Port Talbot | Newport | Pembrokeshire | Powys | Rhondda | Swansea | Torfaen | Vale of Glamorgan | Wrexham |
Northern Ireland
Antrim | Belfast | Down | Fermanagh | Londonderry | Tyrone |
Ireland
Cavan | Clare | Cork | Donegal | Dublin | Galway | Kerry | Kildare | Kilkenny | Leitrim | Limerick | Mayo | Meath | Sligo | Tipperary | Waterford | Westmeath | Wexford | Wicklow |
The Channel Islands and The Isle of Man