Places to Visit in St James's, London
---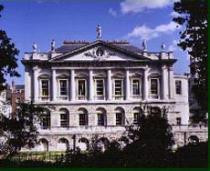 © Spencer House Limited
Spencer House
27 St James's Place
St James's
London
SW1A 1NR
Tel: +44 (0)20 7514 1958
Recorded Information: +44 (0)20 7499 8620
Map
Email: click here
Spencer House online: information and bookings


From its conception, Spencer House was recognised as one of the most ambitious aristocratic private palaces ever built in London and is, today, the cityís only great eighteenth-century private palace to survive intact. It is, without question, one of the most important buildings in London; an extraordinarily beautiful house in its picturesque setting overlooking The Green Park.
The house was built 1756-66 for John, 1st Earl Spencer. Designed by John Vardy and James ĎAthenianí Stuart, the house is one of the pioneer examples of neo-classical architecture and marks a turning point in English architectural history from Palladianism to neo-classical.
Spencer House has regained the full splendour of its late eighteenth-century appearance after a painstaking ten-year programme of restoration undertaken by RIT Capital Partners plc.
Eight state rooms are now open to the public for viewing on Sundays and are available for corporate and private entertaining during the rest of the week. These magnificently restored rooms were amongst the first neo-classical interiors in Europe. Vardyís Palm Room, with its spectacular screen of gilded palm trees and arched fronds, is a unique Palladian setpiece, while the elegant mural decorations of Stuartís Painted Room reflect the eighteenth-century passion for classical Greece and Rome.
Stuartís superb gilded furniture has now been returned to its original location in the Painted Room by courtesy of the Victoria & Albert Museum and English Heritage. Visitors can also see a fine collection of eighteenth-century paintings and furniture, specially assembled for the house, including five major Benjamin West paintings graciously lent by Her Majesty the Queen.
Advance booking for groups tours may be organised by telephoning the TOURS ADMINISTRATOR on 020 7514 1958 (Mon-Fri) or emailing tours@spencerhouse.co.uk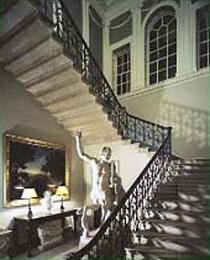 © Spencer House Limited
Facilities
Historic House, Private Group Tours.
Weddings and Conferences
Spencer House was built in 1756-66 for John, first Earl Spencer, an ancestor of Diana, Princess of Wales (1961-97). Situated in the heart of St James's, Spencer House is a short distance from St James's Palace, Buckingham Palace and the Palace of Westminster, and has a splendid terrace and garden with magnificent views of The Green Park.
Spencer House is available as one of the most beautiful and stunning settings in London to entertain.
Each client has the exclusive use of the House in it's entirety, whatever the size or scale of the occasion.
PRIVATE AND CORPORATE ENTERTAINING, WEDDINGS
Spencer House Events: Tel: 020 7514 1964 (Mon-Fri)
Email: events@spencerhouse.co.uk
Opening Times
Spencer House, London's most magnificent private palace, is open to the public for viewing every Sunday.
Private access tours, outside public opening times, may be organised by prior arrangement through the Tours Administrator.
TOURS
Administrator: Tel: 020 7514 1958 (Mon-Fri)
Recorded Information: Tel: 020 7499 8620
mail: tours@spencerhouse.co.uk
Directions
The House is only a few minutes away from Green Park underground station, or a 10-minute bus ride from Victoria station.
In case of alteration, please check prices, opening times and any specific important information before booking or visiting
Thistle Royal Horseguards
, London
St James Club & Hotel
, St. James