Places to Visit in Ilchester, Somerset
---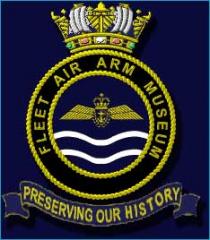 Fleet Air Arm Museum
RNAS Yeovilton
Ilchester
Somerset
BA22 8HT
Tel: +44(0)1935 842619
Map
Email: click here
Fleet Air Arm Museum online: information and bookings


In 1912 a Royal Navy aircraft took off from a platform built for the purpose over the forecastle of HMS HIBERNIA in Weymouth Bay, the first time an aircraft had ever taken off from a ship under way at sea.
Since then, the Royal Navy has operated airships, seaplanes, flying boats and tens of thousands of aeroplanes and helicopters. It has built and deployed over a hundred aircraft-carrying ships and commissioned over a hundred air stations ashore for training and support operations.
Most of the innovative ideas that made the operation of aircraft from ships at sea possible at all have been British; many of them designed by officers serving in the Royal Navy. The Royal Navy invented many of the concepts and tactics used by air forces throughout the world.
It may surprise casual visitors to this web site to learn that the Royal Navy is, and always has been, one of the world's largest and most technically advanced air forces. The Centre for Naval Aviation Records and Research, within the Curatorial Department of the Royal Navy's Fleet Air Arm Museum exists to collect records, photographs and other heritage material relevant to the people, aircraft and ships of Britain's flying Navy.
The armoured cars operated by the RNAS in World War 1 might also cause a little surprise. Innovation was not limited to the aircraft and their operation.
With Disabled Access:
Yes
Facilities
Historic House, Restaurant, Tea Room, Picnic Area, Children, Car Park, Private Group Tours, School Tours Available,
Restaurant
The Swordfish Restaurant
Named after the lengendary WW2 'Stringbag' biplane, our friendly team guarantee you a warm welcome to this 120-seater facility. Opening hours 10.00am to 5.00pm in summer and 10.00am to 4.00pm in winter. Drinks and snacks are available at all times with a varied hot service menu including vegetarian options from 12.00pm until 2.30pm (Please note alcholic beverages may only be purchased with a main course). Group arrangements can be made for coffee, lunch or afternoon tea.
Weddings and Conferences
Finding a memorable venue for your special occasion, conference or event can be a real headache. So here's an idea which is original, hassle free and guaranteed to be remembered!
Why not hold your event among Europe's largest collection of Naval aircraft or even under Concorde?
• You can have a cocktail reception on the flight deck of the 'HMS ARK ROYAL'
• See the Fleet Air Arm in action in the 'Flight Deck Experience'
• Dine in style under the first British built Concorde!
Further Information
Please help us by making a donation to our museum.
All donations will be gratefully received and very wisely used.
If you would like to discuss making a donation to the museum please contact Graham Mottram, Director, The Fleet Air Arm Museum, Box D6, RNAS Yeovilton Somerset BA22 8HT, Tel: 01935 842624 or send your donation to The Fleet Air Arm Museum. The Fleet Air Arm Museum Registered Charity No 25007
In case of alteration, please check prices, opening times and any specific important information before booking or visiting
Little Barwick House
, Yeovil
The Marston Inn
, Marston Magna
The Halfway House Inn Country Lodge
, Yeovil
The Helyar Arms
, Yeovil
Liongate House, Northover
, Ilchester