Places to Visit in Pembroke, Pembrokeshire
---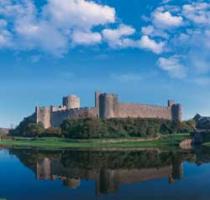 Pembroke Castle
Pembroke
Pembrokeshire
SA71 4LA
Tel: +44(0)1646 681510
Fax: +44(0)1646 622260
Email: click here
Pembroke Castle online: information and bookings


Idyllically set on the banks of the river estuary is the medieval town of Pembroke with its historic showpiece, the castle.
This mighty thirteenth century fortress is largely intact, and its endless passages and stairways are great fun to explore. There are colourful exhibitions and lively guided tours, which recount the castle's history from the arrival of the Normans to the present day. Also on site is a gift shop, a brass rubbing centre and a snackbar.
The castle's long and fascinating history begins in 1093. Roger de Montgomery, the Norman invader, built a "slender fortress of stakes and turf", at the end of the promontory. The castle became the centre of the medieval earldom of Pembroke, expanding over the next two centuries to the majestic stone structure we see today.
The early thirteenth century keep is a striking architectural feature. The sweeping panoramic view from the top of this massive cylindrical tower shows the castle's natural defensive position. This keep was built by William Marshal, Earl of Pembroke, the outstanding knight of his age – William once unhorsed Richard the Lionheart.
Pembroke is also important as the birthplace of Henry Tudor, Earl of Richmond, who would later become Henry VII, founder of the Tudor Dynasty. During the troubled reign of King Charles I, the castle was held first for Parliament and then for the King as the sympathies of its commanders altered. In the later stages of this grim struggle, Oliver Cromwell himself directed the victorious besiegers.
The castle is owned by a private charitable trust, which manages the site for the enjoyment of the public. With its rich history, mighty buildings and numerous other attractions, Pembroke Castle offers a fascinating and relaxing visit for all the family.
Please visit www.pembroke-castle.co.uk for fuller details.
Opening Times

In case of alteration, please check prices, opening times and any specific important information before booking or visiting
The Dial Inn
, Lamphey
Lamphey Court Hotel & Spa
, Pembroke
The Stackpole Inn
, Stackpole
Coach House Hotel
, Pembroke
High Noon
, Pembroke