Abbeys and Priories in Selby, Yorkshire
---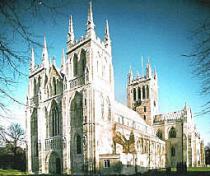 Selby Abbey
The Crescent
Selby
Yorkshire
YO8 4PU
Tel. +44 (0)1757 703123
Email: click here
Selby Abbey online: information and bookings


Selby Abbey is unique in the North of England, as the first monastery to be founded in the North after the Norman Conquest and one of the few in England to have survived as a parish church.  The Abbey was granted its founding charter by William the Conqueror and has connections with France, Germany and the USA. It is reputed to be the birthplace in September 1068 of King Henry I of England, the son of King William I and Queen Mathilda.
Find out more about us by following the links to the left. Learn more about our unique connection with George Washington's family and our place on the American Heritage map.
Please do all you can to help us preserve this wonderful Norman building, now in need of urgent repair. The Abbey Appeal is seeking to raise £6 million to restore this beautiful and ancient abbey church for future generations to enjoy.
Visitor Numbers: Selby Abbey is annually visited by over 15,000 people.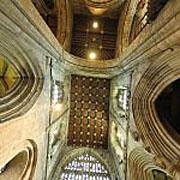 Facilities
SERVICES
Holy Communion is celebrated each Monday at 12.00 pm and every Thursday at 10.00 am.
SUNDAYS
Holy Communion at 8.00 am.
Sung Eucharist at 10.00 am.
Choral Evensong at 6.30 pm (1st Sunday of the month).
Weddings and Conferences
WEDDINGS IN SELBY ABBEY, YORKSHIRE
Those who live within the parish boundaries or have a connection with the parish or are on the electoral roll of the church are entitled to be married here. Please check with the Vicar if you have any queries.
Additional Services
Special Services: The Abbey has hosted many large-scale events including the Petertide Ordination Service, the annual Civic Service for Selby District, the St. George's Day parade for all uniformed organisations, the Yorkshire Agricultural Harvest Thanksgiving and the Annual Carer's, 578 Squadron and 51 Squadron Memorial Services.
Opening Times
The Abbey and the Abbey gift shop is open every day from 10.00 am to 4.00 pm.
The Abbey coffee shop is open Monday, Tuesday and Friday between 10.00 am and 3.00 pm.
In case of alteration, please check prices, opening times and any specific important information before booking or visiting