Railways in Shildon, Durham County
---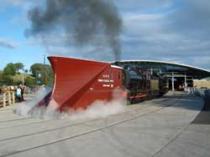 Locomotion:
The National Railway Museum at Shildon
Shildon
Durham County
DL4 1PQ
Tel: +44(0)1388 777999
Fax: +44(0)1388 771448
Email: click here
Locomotion:
The National Railway Museum at Shildon online: information and bookings


The North East is known as the birthplace of the railways where both George Stephenson and Shildon based engineer Timothy Hackworth are widely acknowledged as two of the founders of rail travel as we know it.
Locomotion is an £11 million project, a joint venture between Sedgefield Borough Council and the National Railway Museum at York, the first branch of a national museum in the region.
The development combines the buildings of the former Timothy Hackworth Museum and two further buildings, which are of historical importance in terms of the town's industrial heritage as well as a new high quality 6,000 sq ft collection centre.
The museum highlights the railway and social history of Shildon, sustainability and conservation and the history of transport and is home to over sixty vehicles, the collection changes on a regular basis with visiting locomotives from across the country and in particular from the national collection at York, including appearances from star locomotives such as City of Truro and The Flying Scotsman, probably the worlds most famous locomotive.
The museum benefits from many environmentally and technologically advanced features. The collections centre boasts a photovoltaic roof, which provides energy to the building via solar panels as well as a windmill and state of the art under floor heating. The kilometre walk along the track from the welcome building to collections centre incorporates preserved wildlife areas, plus a landscaped picnic area and children's playground.
There are modern interactive interpretations of exhibits throughout the museum, plus a wide variety of special events and education activities throughout the year. There is also a large gift shop and café and the site is fully wheelchair accessible.
It is also possible to experience a ride behind a steam train with one of the many visiting locomotives to the museum during summer weekends and special event days at this first class visitor attraction.
Locomotion: the National Railway Museum at Shildon, Shildon, County Durham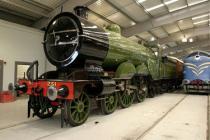 Facilities
Tea Room, Car Park, School Tours Available,
Admission
Admission is FREE for all visitors except during certain special events when charges may apply. Dogs are welcome (support dogs only inside the buildings).
In case of alteration, please check prices, opening times and any specific important information before booking or visiting