Places to Visit in Spalding, Lincolnshire
---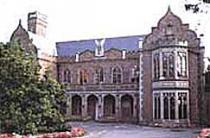 Ayscoughfee Hall Museum and Gardens
Churchgate
Spalding
Lincolnshire
PE11 2RA
Tel: +44(0)1775 764555
Email: click here
Ayscoughfee Hall Museum and Gardens online: information and bookings


AYSCOUGHFEE HALL MUSEUM
Ayscoughfee Hall Museum was originally built in the early 15th Century as the home of local wool merchant Richard Alwyn.  Throughout its 600 year history the hall has continued to grow and develop, with each owner changing the building to represent their needs and the fashions of the time.
Once the home of the prestigious Johnson family, Ayscoughfee Hall spent much of its life as a private house for a succession of families, before being purchased by the people of Spalding during the eary 20th Century.  Since then it has served as a library, School, Council Offices and most recently as the District's museum.
Ayscoughfee Hall has recently been closed for renovation and refurbishment, funded by the Heritage Lottery Fund, South Holland District Council, Lincolnshire Tourism and the Friends of Ayscoughfee.
The museum has been fitted with new displays and is now open to the public.
AYSCOUGHFEE GARDENS
Open from dawn until dusk everyday of the year, Ayscoughfee Gardens have something to offer all ages!
The formal gardens beautifully compliment historic Ayscoughfee Hall, featuring a Yew Tree walk dating back to the 1720s.  The Ornamental Lake is headed by a War Memorial designed by the architect Sir Edwin Lutyens, while hidden to the rear of the gardens is the Ice House which originally served the Hall's kitchens.
The Peace Garden offers a more contemporary theme, while the Herb Garden features a display of the plants that would have been used in the kitchens of Ayscoughfee Hall.
For the more active, facilities include: hard surface tennis courts, a bowling green and putting green.  Tickets for these are available from the Pavillion.
The Gardens also houses a children's playground and refreshments can be purchased at the Pavillion Cafe, open from March - October inclusive. 
Facilities
Historic House, Gardens, Restaurant, Tea Room, Picnic Area, Children, Car Park, Private Group Tours, School Tours Available,
In case of alteration, please check prices, opening times and any specific important information before booking or visiting