Castles in Chillingham, Northumberland
---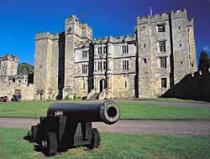 Chillingham Castle
Chillingham
Northumberland
NE66 5NJ
Tel: +44(0)1668 215359
Map
Email: click here
Chillingham Castle online: information and bookings


Owned by Sir Humphry Wakefield Bt.
This remarkable castle with its alarming dungeons and torture chamber has, since the twelve-hundreds, been continuously owned by the family of the Earls Grey and their relations.
You will see active restoration of complex masonry, metalwork and ornamental plaster as the great halls thrive with day to day life. A wide diversity of rooms and style give a refreshing difference to the Castle.
Named after the king who visited Chillingham in 1617 the James 1st Drawing Room is famous for its recently restored Elizabethan ceiling with its gilded ribs and pendants.
The state rooms are brilliantly furnished with both antique and modern furniture and lined with patterned silk screening hung with paintings and enamels.
The castle Library also displays interesting family memorabilia and has a very fine chimney piece.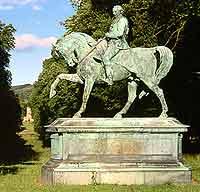 Additional Services
Chillingham Castle has provided an excellent location for TV and Film
Opening Times
Open every day from the 1st April until the 5th November 2023. 11am until 5pm (last admission 4pm).
Ghost and Private Castle Tours to be booked in advance.
Further Information
THE MOST HAUNTED HOUSE IN BRITAIN
We have a number of ghosts. The most famous is the "blue boy", who as midnight rang out would cry and moan in agony (or maybe fear). The noises could be traced to a spot near a passage cut through a ten foot wall.
When the bloodcurdling wails die away a soft halo of light appears around an old four poster bed. Anyone sleeping there, even today, can see the figure of a young boy dressed in blue, and surrounded by light. Behind the wall the bones of a young boy and fragments of blue clothing were discovered.
Another ghost, Lady Mary Berkeley, searches for her husband, who ran off with her sister. Lady Mary, desolate and broken hearted lived in the castle by herself with only her baby girl as a companion. The rustle of her dress can be heard as she passes you by in the turret stairs.
Self Catering Accommodation and Ghost Tours can be booked online via our website.
In case of alteration, please check prices, opening times and any specific important information before booking or visiting
Tankervill Arms
, Eglingham
Chillingham Castle Accommodation
, Chillingham
Jolly Fisherman Inn
, Craster
Rock Farm House B & B
, Alnwick
Bondgate House
, Alnwick