Castles in Grantham, Leicestershire
---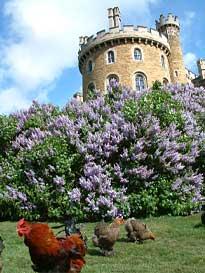 Belvoir Castle
Grantham
Leicestershire
NG32 1PE
Tel: +44 (0)1476 871002
Email: click here
Belvoir Castle online: information and bookings


Belvoir has been the ancestral home of the Duke and Duchess of Rutland for one thousand years and is currently the family home of 11th Duke and Duchess and their five children.
The present Castle is the fourth to have stood on the site since Norman times. The existing Castle was completed in the early 19th century after previous buildings suffered complete or partial destruction during the Wars of the Roses, the Civil War and a major fire in 1816.
From the elegance of the Elizabeth Saloon and the majesty of the State Dining Room to the delights of the Regents Gallery and the military splendour of the Guard Room, Belvoir possesses one of the most stunning interiors of the period.
In contrast to the grandeur of the State Rooms, the Old Kitchen and Bakery fuel the imagination of 'below the stairs' life in 1825. While the School Room and Nursery allow children to experience lessons and games from Regency times.
The Castle contains many notable pieces of art and includes paintings by Gainsborough, Reynolds, Holbein and Poussin. It houses outstanding collections of furniture, porcelain, silks, tapestries, French furniture and Italian sculpture. Sculpture exends outside into the Rose and Statue Gardens which are elegantly laid out round a central fountain. The Statue Collection terraced into the hillside includes work by Caius, Cibber - Sculptor to Charles II.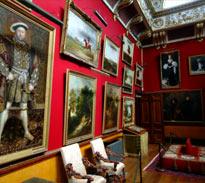 Weddings and Conferences
WEDDINGS AND CORPORATE EVENTS NEAR GRANTHAM LINCOLNSHIRE/LEICESTERSHIRE
Belvoir Castle with its magical hill top setting in rural Leicestershire is quite the most romantic place for your memorable day. Our in house team have years of experience to ensure your guests enjoy the regal atmosphere of our family home.
While the Castle is gloriously romantic with turrets, castellation, towers and flags the organisation of your wedding day is very firmly set on the ground. We can assist with all the components that go towards making a special day memorable; cars to carriages, food to flowers, music to Master of Ceremonies.
A visit the Castle will enable you to fully appreciate the magnificence of the location and the grandeur of the Castle itself. There can be few other locations in this country, which compare to Belvoir Castle.
The Castle is available for civil & religious ceremonies. The Guard Room with high ceilings and open fires provides the location for a civil ceremony and the Ballroom offers an elegant alternative. The intimate Rutland family Chapel is host to Church of England ceremonies for those looking for a traditional church wedding.
Opening Times
Open 11am - 5pm (last entry 4pm) PLEASE NOTE THAT THIS MAY CHANGE OF THERE ARE WEDDINGS WITHIN THE CASTLE.
In case of alteration, please check prices, opening times and any specific important information before booking or visiting
The Welby Arms
, Grantham
La Casita
, Normanton
Rutland Arms
, Woolsthorpe
Belvoir Vale Cottage
, Grantham
Belton Woods
, Grantham