Places to Visit in Eynsford, Kent
---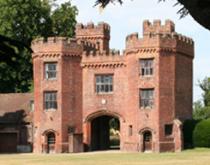 Lullingstone Castle
Abbey Road
Eynsford
Kent
DA4 0JA
Tel: +44(0)1322 862114
Fax@ 01322 862115
Map
Email: click here
Lullingstone Castle online: information and bookings


Lullingstone Castle and The World Garden of Plants, is home of The National Collection of Eucalyptus & scene of BBC 2's 'Save Lullingstone Castle' & 'Return to Lullingstone Castle' where heritage meets cutting edge horticulture.
Manor House and Gatehouse
The present Manor House and Gatehouse, which overlook a stunning 15-acre lake, were built in 1497 and have been home to the same family ever since. Both Henry VIII and Queen Anne are known to have been regular visitors. Hidden in the grounds, alongside the River Darent, visitors will also find "Queen Anne's" Bathhouse and an 18th century Ice House.
Established in 2005, the World Garden of Plants continues to grow and build year on year, adding rare and important botanical plants to its collection.
An example of the Dinosaur Tree (Wollemi Pine), the oldest tree in the world, is planted close to Ayers Rock (Uluru) in the Australian border.
The rare and beautiful Eucalyptus Silver Princess flowered for the first time in the UK ever within the grounds in 2006.
Penstemon 'Crac's Delight' (left), discovered by Tom in 1999 and named after his Granny, now blooms in Mexico.
Awaiting official recognition, the Dahlia 'Lullingstone Castle', a big pink-petaled, yellow-centred single flower, was discovered in the World Garden in 2009.
There are innumerable other horticultural delights for visitors to see, smell and touch, including the stinky Dog Pooh plant (Hoodia gordonii) the world's most dangerous plant, the Queensland Stinger (Dendrocnide moroides) and the hottest chilli - Dorset naga.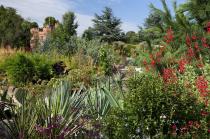 Further Information
Bees have arrived at Lullingstone!
Beekeeping is all the rage so we thought we'd have a go too. The bees arrived in the World Garden in the Summer of 2011. We hope that soon enough, when we have mastered the art of beekeeping, we will be producing Lullingstone World Garden honey.
Each hive is home to around 60,000 bees in the Winter, rising to 120,000 in the Summer. The Garden is abuzz.
The Dartford Beekeepers' Association is currently providing all the technical support to Lullingstone and a huge thank you to them. William, in his early 90s, can be seen on the left checking the hives
On Monday 29th August 2011 Mick Brown and William gave our first beekeeping demonstration - watch this space for lots of bee events in 2012!
In case of alteration, please check prices, opening times and any specific important information before booking or visiting
Malt Shovel Inn
, Eynesford
Beesfield Farm
, Farningham