Places to Visit in Warwick, Warwickshire
---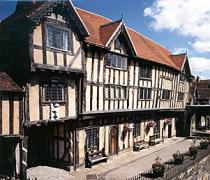 Lord Leycester Hospital
High Street
Warwick
Warwickshire
CV34 4BH
Tel: +44 (0) 1926 - 491422
Fax: +44 (0) 1926 - 491422
Lord Leycester Hospital online: information and bookings


Many visitors to Warwick are familiar with the magnificent medieval frontage of the Lord Leycester Hospital, little do they realise that inside is a unique Tudor Courtyard, exactly as it was when Robert Dudley, Earl of Leicester, was wooing Elizabeth the First Queen of England.
Behind the buildings is the Masters Garden, an oasis of peace and tranquillity in the heart of the Bustling market town of Warwick, come and enjoy some real peace in a garden that has been a haven of peacefulness since the middle ages.
The historic group of buildings that now comprise the Hospital, is now dominated by the ancient Chantry Chapel of St James, built over the West Gate into Warwick by Thomas Beauchamp, 12th Earl of Warwick, in the latter half of the 14th Century.
The Guild of St George was created under a license issued by King Richard II on 20th April, 1383, and Thomas Beauchamp granted the benefice of the Chantry Chapel to the Guild on its formation.  Sometime between 1386 and 1413, the Guild of the Blessed Virgin, based at the Collegiate Church of St Mary, joined the Guild of St George at the West Gate.  To accommodate the resident priests and the guilds, reception, meeting and dining halls were built as well as living quarters.  They became known as the United Guilds of Warwick.
In 1546, when they were dispersed by King Henry VIII, the United Guilds were able to save their property from seizure through the admirable foresight of their Master, Thomas Oken, who had it transferred to the Burgesses of Warwick.
In 1571, Robert Dudley, Earl of Leycester acquired the buildings and founded, under charter from Queen Elizabeth I, a Hospital for aged or disabled soldiers and their wives.  The Charter set up a corporation consisting of the Master in charge of the Hospital and the twelve resident Brethren, which was endowed with estates producing an income of £200 per year.  To accommodate them, parts of the buildings, including the Guildhall itself, were divided into primitive quarters.  These arrangements remained unchanged until 1950, when the Guildhall was cleared and the number of Brethren temporarily reduced to five.
During this period of nearly 400 years, the adminstration of the Hospital continued under the Charter as originally laid down, to which had been added a set of regulations drawn up by the Earl of Leycester.
In 1956, an Act of Parliament was passed abolishing the Corporation of the Master and Brethren and replacing it by a Board of Governors, who decided to restore the building and modernise the quarters.
Queen Elizabeth, the Queen Mother, opened the Hospital after its restoration, on 3rd November, 1966.
Today, 8 ex-servicemen and their wives live in modernised flats and in return give their services towards the running of the Hospital.
For various reasons over the years, the Hospital's estates have been disposed of, such that it is now a self-supporting charity relying largely on income from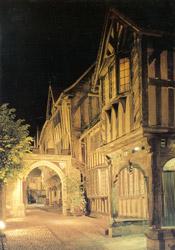 Facilities
• Historic House
• Gardens
• Tea Room
• Picnic Area
• Car Park
• Private Tours available
• School Tours
In case of alteration, please check prices, opening times and any specific important information before booking or visiting
Lord Leycester Hotel
, Warwick
Cambridge Villa Hotel
, Warwick
Express by Holiday Inn
, Warwick
Courtyard by Marriott Leamington Spa
, Leamington Spa
Aylesford Hotel
, Warwick