Gardens in Llangathen, Carmarthenshire
---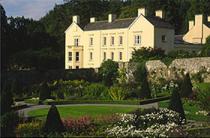 Aberglasney Gardens
Llangathen
Carmarthenshire
SA32 8QH
Tel: +44(0)1558 668998
Fax:+44(0)1558 668998

Map
Email: click here
Aberglasney Gardens online: information and bookings


Spectacularly set in the beautiful Tywi valley of Carmarthenshire, Aberglasney Gardens have been an inspiration to poets since 1477. The story of Aberglasney spans many centuries, but, the house's origins are still shrouded in obscurity.
THE GATEHOUSE
Past owners may have regarded it as a folly (and it was certainly 'antiqued' when a decorative stone moulding was added around its outward arch), but its origins are a good deal older.
On either side the stonework bears the scars of missing gables, showing that one-storey roofed buildings once extended in each direction and joined up with other walls and buildings to make an enclosed courtyard.
An archaeologist recording the intricate pattern of the carriage way Similar structures elsewhere are known to date from 1600. The archway's cobbled floor bears the dints of cartwheels.
YEW TUNNEL
The Yew Tunnel is thought to have been planted by the Dyer family during the eighteenth century, and it is possibly unique in the U.K. When they had grown tall they were bent over to form an extended arch.
Their trunks have spread and their branches have fused so that today it is hard to count how many separate trees commingle in the vast mass of this venerable growing gallery.
CLOISTER GARDEN
From the North Lawn the land slopes gently away and the house looks westwards out towards Grongaer Hill. The courtyard we find here is Aberglasney's most extraordinary and legendary feature. On three sides vast arcaded stone structures support a broad parapet walkway. The house itself stands a little apart as the fourth side, loosely closing off the rectangle. For a long time the vegetation here was so dense and the stonework in such decay that it was almost impossible to see exactly what the structures consisted of - let alone to guess their purpose.
Opposite the house the western range shelters a long arcaded walkway - the cloister or cryptoporticus - but the two side ranges are solid, pierced by deep archways. Visitors were invariably puzzled.
Almost every instance of the formal raised terraces that we know were popular in this period has since disappeared, having succumbed to Civil War depredations or to the eighteenth-century Landscape Movement, when formal enclosures beside the house were often swept away to make room for a more open parkland setting.
Amazingly, investigation in the late 1990s revealed that Aberglasney's parapet walkway was indeed a unique survivor of a style of garden architecture that is now found only in records of lost gardens.
During the 1990s, once rampant vegetation was cleared, the sifting of layers of soil and debris began to reveal this enclosure in its true colours.For more information on more garden aspects please refer to Aberglasney's website.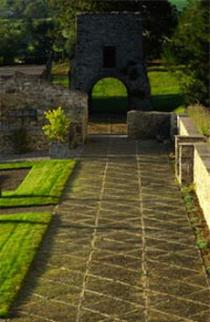 Facilities
Gardens, Tea Room, Picnic Area, Children, Car Park, Private Group Tours, School Tours Available,
In case of alteration, please check prices, opening times and any specific important information before booking or visiting
Capel Dewi Uchaf Country House
, Carmarthen
Shakeshafts
, Carmarthen
Forest Arms
, Brechfa
Cothi Bridge Hotel
, Carmarthen
Allt Y Golau Uchaf
, Felin Gwn Uchaf