Places to Visit in Stoke on Trent, Staffordshire
---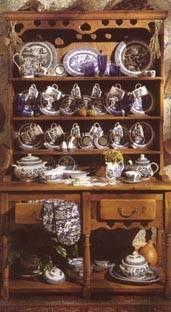 Churchill China
Marlborough Works
High Street
Tunstall
Stoke on Trent
Staffordshire
ST6 5NL
Tel: +44 (0)1782 268 870
Email: click here
Churchill China online: information and bookings


EARTHENWARE AND CHINA IN TUNSTALL, STAFFORDSHIRE, ENGLAND
Churchill China plc is one of the worlds major manufacturers and distributors of high quality ceramic tableware. Based in Stoke on Trent, England, Churchill can trace its development back to the establishment of one of its constituent companies, Sampson Bridgwood, in 1795 and has developed progressively, building a reputation as an innovative and reliable supplier of quality products. Churchill floated on the London Stock Exchange in 1994 and is now a substantial organisation.
Churchill supplies a wide range of ceramic tableware and related products to customers in hospitality and home markets around the world through an extensive network of retailers, agents and distributors.
The Company operates from four manufacturing units in Stoke on Trent which are supported by distribution centres and a sourcing operation which allows Churchill to offer a "one stop shop" to its customers.
Over recent years Churchill has developed from its base as a cost efficient manufacturer to embrace a wider commitment to design, innovation, quality and customer service. The Company's investment in design and product innovation now means that it regularly wins awards for new products and is recognised by its customers as being one of the most responsive suppliers in the ceramic industry. This investment in design has been matched by a steady improvement in the quality of products offered. The Company has been awarded international quality standards for its products which are now recognised as being amongst the best in the industry. Churchill employs many technical specialists to ensure that this quality is delivered consistently. The Company's reputation has always depended on the speed of it's customer service. Churchill offers an ex stock service on many of its core products and prides itself on its ability to meet customer requirements. This key skill is backed not just by the commitment of management and employees but by constant investment in logistics and information technology.
Churchill manufactures a wide range of durable vitrified earthenware, mainly for hospitality markets, and earthenware and bone china products for home markets. This manufacturing output is complemented by an ability to source and supply porcelain and stoneware products to complete its ceramic tableware offering.
The range of product within each of these areas is enormous. In Churchill's Dining Out division, which supplies hospitality markets, products vary from simple white plates to specialist products for ethnic restaurants. The Dining In division, which supplies product for use in the home, provides not only Traditional Prints and Classic English design, but also a collectable range and high fashion products to meet today's changing lifestyles.

In case of alteration, please check prices, opening times and any specific important information before booking or visiting
Bredbury Hall Hotel
, Stockport
Swallow George Hotel
, Stoke-on-Trent