Places to Visit in St Davids, Pembrokeshire
---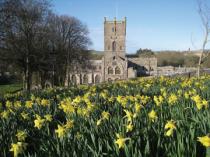 St David's Cathedral
The Close
St Davids
Pembrokeshire
SA62 6QW
Tel: +44(0)1437 720 199
Fax: +44(0)1437 721885


Email: click here
St David's Cathedral online: information and bookings


St. Davids Cathedral rests at the bottom of a deep wooded valley cut through by the river Alun. Approaching from the town, the visitor enters the walls of the cathedral close through the gatehouse, the only remaining one of four original entry gates, and from the top of 39 steps is met by a stunning view of the Cathedral and neighbouring Bishop's Palace. The medieval close contains a collection of stone houses which, with their walled gardens and quiet air of history add to the remarkable peace of the valley.
The Cathedral, begun in 1181, is at least the fourth church to have been built on a site reputed to be that on which St. David himself founded a monastic settlement in the 6th century.
The outstanding features of the building are the magnificent ceilings - oak in the Nave and painted in the Choir and Presbytery - and the sloping floor. The stalls of the Chapter of the Cathedral contain medieval miscricords and the Chapter is unique in having the reigning Sovereign as a member. The Cathedral has been an important place of pilgrimage for nearly fourteen centuries. In 1124, Pope Calixtus II declared that two pilgrimages to St. Davids were equal to one to Rome and that three were equal to one to Jerusalem itself.
On the north side of the Cathedral is St. Mary's Hall, connected by the remains of the fourteenth century cloisters. It is all that remains of St. Mary's College, built in 1365, and is used as the Cathedral hall which houses the refectory and gallery where local artists hold exhibitions throughout the year.
The Cathedral has a strong musical tradition. There are choral services throughout the week, with choral Mattins and Evensong each Sunday, and a programme of concerts through the year.
St Davids was the first cathedral to have a girls' choir. The choir has toured America, Australia and performed in several European cities, frequently performed on radio, and is featured on several CDs. The St Davids Cathedral Festival is a an annual week-long programme of music performed by musicians of note from around the country.
St. Davids Cathedral is a very special place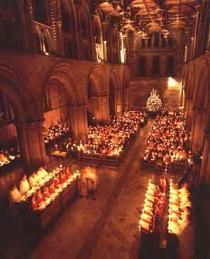 With Disabled Access:
Yes
Facilities
Historic House, Bookshop and Gifts, Refectory and Treasury
Opening Times
Open 08:00a.m to 05.30p.m.
In case of alteration, please check prices, opening times and any specific important information before booking or visiting
Glan Y Mor Inn
, St. Davids
Wolfscastle Country Hotel and Restaurant
, Haverfordwest
Warpool Court Hotel
, St. Davids
The Swan Inn And Restaurant
, Little Haven
Lochmeyler Farm Guest House
, Solva