Places to Visit in Swindon, Wiltshire
---
Lydiard Park
Hook Street
Lydiard Tregoze
Swindon
Wiltshire
SN5 3PA
Tel: +44(0)1793 770 401
Fax: +44(0)1793 771 960

Map
Lydiard Park online: information and bookings


Steeped in history, Lydiard Park, a 260 acre park provides different activities and settings for all to enjoy. The park has been open to the public since 1955, but it's history can be traced to 1086. Today you can enjoy farmland trails, woodland walks, or enjoy one of the Ranger Team's exhibition along with a refreshing cup of tea at the Visitor Centre.
The Elizabethan House is the park's focal point and is open on a daily basis to the public. Visitors can wander through the elegant ground floor apartments where original family furnishings are preserved alongside portraits and photographs of the St. John family who lived here from the Elizabethan times.
Towering Cedars of Lebanon, grass avenues and sweeping lawn reveal Lydiard's formal parkland. Surfaced paths and trails through the woodland areas offer glimpses of the many birds and animals which make Lydiard their home, from green woodpeckers to Roe deer. In early spring the woodlands are carpeted with snowdrops, with bluebells and wild garlic pushing through in late spring.
The stream that feeds the brooks plays host to a myriad of invertebrates and small fish such as stone loach and sticklebacks. The small population of ducks will always welcome those with a crust to throw to them.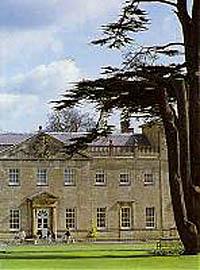 Facilities
Historic House, Gardens, Restaurant, Tea Room, Picnic Area, Children, Car Park, Private Group Tours, School Tours Available,
Prices per Person unless specified
Rooms from £45
Weddings and Conferences
WEDDINGS AND CORPRATE EVENTS IN SWINDON, WILTSHIRE
Licensed for civil weddings and receptions
It is easy to say, but we really do want to help make your wedding day special.  A day that you and your guests will fondly remember always.  A day when you won't need to worry about the details.  A day when you and your guests can enjoy the celebration of your marriage.
We are confident that we have the right ingredients to achieve these aims.  The character and splendor of one of Swindon's most historic properties; the charm and elegance of the interiors; the intimate, friendly atmosphere; the benefits of exclusive use; the quality of our home-made cuisine and the importance of our experienced and flexible staff… all combine perfectly to create a very special and romantic venue.
CONFERENCES
For 25 years our corporate clients have benefited from a special, intimate and focused atmosphere that is the result of a combination of friendly, flexible staff, home-produced cuisine of the highest standard and the character and charm of such an historic building.
Tel: +44(0)1793 770 062

Directions
Lydiard Park is situated on the southwest side of Swindon with easy access by public transport. From the M4 take exit 16 a


In case of alteration, please check prices, opening times and any specific important information before booking or visiting
The Old Farmhouse
, Swindon
The Old Farm House
, Purton
The Sun Inn
, Swindon
De Vere Hotel
, Swindon