Castles in Golspie, Highlands and Islands
---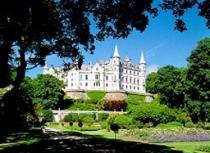 Dunrobin Castle & Gardens
Sutherland Estates Office
Duke Street
Golspie
Highlands and Islands
KW10 6SF
Tel: +44 (0) 1408 633177
Fax: +44 (0) 1408 634081
Map
Email: click here
Dunrobin Castle & Gardens online: information and bookings


Dunrobin is the most northerly of Scotland's Great Houses and is the home of the Earls of Sutherland, one of the ancient earldoms of Scotland, created in about 1235. It is now lived in by the Countess of Sutherland.
In 1845, Sir Charles Barry, who had just completed the new Houses of Parliament, was employed to re-model the early Castle into a massive baronial residence inspired by Queen Victoria's new house at Balmoral. Much of Barry's interior was destroyed by fire in 1915 and the leading Scottish architect, Sir Robert Lorimer, re-designed all the main rooms.
The Castle, which overlooks the sea, boasts magnificent formal gardens, also designed by Sir Charles Barry. The layout of the gardens was inspired by the gardens at Versailles and contain some of the few remaining parterres in the French style with a definite Scottish flavour.
Among the many military and ceremonial exhibits on display are the colours of the 93rd Sutherland Highlanders. The 93rd was the famous thin red line at Balaclava, and was the successor of various regiments raised by the family during the Seven Years and Napoleonic Wars, later to become part of the Argyll and Sutherland Highlanders.
The Castle Tour - Dunrobin is the largest house in the Scottish Highlands. The 13th century keep, encased by a series of additions from the 16th century onwards, is no longer visible from outside the Castle. The additions effected by Sir James Barry in the 1840's give the Castle the overall look of a French chateau. The principal rooms include the Drawing Room, hung with tapestries; the Green and Gold Room, where Queen Victoria stayed in 1872; the Duke's study, with its secret doors and stairways connecting to other rooms in the Castle; and Sir Robert Lorimer's sycamore Library containing over 10,000 volumes; as well as period bedrooms, nurseries and kitchens. One of the more unusual exhibits is a steam powered fire engine. The rooms are decorated with flowers from the gardens.
Gardens and Grounds -The formal gardens, with their arrangement of parterres inspired by the gardens at Versailles, present an impressive spectacle, especially when viewed from the Castle Terrace. A surprising range of plants is supported. In addition to the formal gardens, there are also fine woodlands through which visitors can walk at their leisure and a picnic area. The Victorian Museum in the grounds houses an outstanding collection of big game trophies, Pictish stones and other items collected from all over the world as well as locally.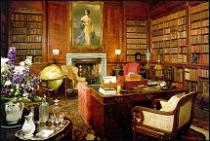 Facilities
• Historic House
• Gardens
• Tea Room
• Picnic Area, Children
• Car Park
• Private Group Tours
• School Tours Available
Weddings and Conferences
Special functions, conventions, buffets, lunches and receptions can be arranged in either the Dining Room or the Drawing Room. A wide range of numbers can be accommodated. If requested, Lord Strathnaver, the son of the Countess of Sutherland, can meet the group and participate in the function. Facilities are also available for fashion shows, air displays, archery, clay pigeon shooting, garden parties, rallies, product launches, filming and concerts. The Castle also makes a dramatic and unforgettable setting for a wedding. Shooting and fishing holidays can be arranged through the Estates Office
In case of alteration, please check prices, opening times and any specific important information before booking or visiting
Granite Villa Guest House
, Golspie