Places to Visit in Whitchurch, Hampshire
---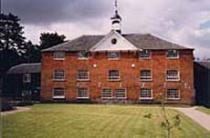 Whitchurch Silk Mill
28 Winchester Street
Whitchurch
Hampshire
RG28 7AL
Tel: ++44 (0)1256 892065
Email: click here
Whitchurch Silk Mill online: information and bookings


Whitchurch Silk Mill was constructed in about 1800. It was originally used as a fulling mill, part of the finishing process in cloth weaving. In 1816 the Mill was purchased by William Maddick, a silk manufacturer of Love Lane, Aldermanbury, London. By the 1830s the Mill was weaving silk.
The Mill then passed in to the ownership of the Chappell family. During this period weaving at the Mill was done on large floor looms powered by the weaver. Winding was often done by children. By 1838 it had over 100 employees, 39 of which were children under 13 years old.
The Mill changed ownership again in 1889 when it was purchased by the Hide family. Based in Whitchurch, John Hide already ran a successful drapers business. It was his son James that was to run the Mill. The Hide family modernised production introducing powered looms, winding frames and a warping mill run by the waterwheel. A new larger waterwheel was installed to provide the necessary power.
The Mill wove linings for Burberry raincoats. Based in nearby Basingstoke, the Burberry's were related to the Hide family by marriage. Production at the Mill was interrupted by the Second World War as supplies of raw silk were not available. After the War individual electric motors were installed on the Mill's machines replacing water power.
James Hide continued to manage the Mill until his death in 1955 aged 92. The business was then bought by Stephen Walters and Company, Silk Weavers of Suffolk. In 1971 it passed into the ownership of Ede and Ravenscroft, makers of legal gowns. The ottoman silk for legal gowns was woven at the Mill and the gowns were made up in the sewing room.
In 1985 the Mill was faced with closure as the business was losing money. The building and its contents were purchased by the Hampshire Buildings Preservation Trust which carried out extensive repairs. This included renovating nearby cottages and selling them to fund the repairs. In 1990 the Mill was leased to the Whitchurch Silk Mill Trust, dedicated to educational and preservation purposes. Weaving continued and does to this day using the historic machinery for its original purpose, producing fine silks for our customers.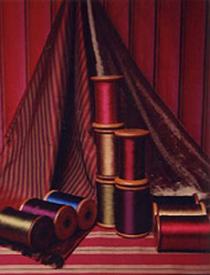 Facilities
• Historic House
• Gardens
• Tea Room
• Picnic Area
• Car Park
• Private Tours available
• School Tours
Opening Times
All year except Christmas week (24 December to 2 January)
Tuesday to Sunday from 10.30am to 5.00pm
Last admission at 4.15 pm
Directions
Whitchurch Silk Mill is in North Hampshire, in the centre of the small town of Whitchurch on the River Test. It is on the
In case of alteration, please check prices, opening times and any specific important information before booking or visiting
The Red Lion Inn
, Whitchurch
Watership Down Inn
, Whitchurch