Places to Visit in Ballater, Aberdeenshire
---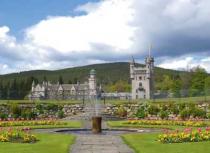 Balmoral
Estates Office
Balmoral
Ballater
Aberdeenshire
AB35 5TB
Tel: +44(0)13397 42534
Fax: +44(0)13397 42034
Email: click here
Balmoral online: information and bookings


In 1842 Queen Victoria and her consort Prince Albert visited Scotland for the first time and so began a love affair with the country that has been passed down to successive monarchs ever since. The couple were particularly taken with the Highlands and received glowing accounts of Sir Robert Gordons small deeside castle at Balmoral. Not only was the scenery beautiful but the air was said to be unusually pure.

In 1847 Sir Robert died and encouraged by her physician Sir James Clark they seized the opportunity to negotiate for the property. In September 1848 they arrived to take possession of a property which they had never seen and they were not disappointed. Over the next few years the Royal Family were able to spend six weeks at Balmoral each Autumn and they were of course, by now, certain that the perfect holiday retreat had been found.

Many improvements were planned and then inspected each year that they returned. In 1852 it became obvious that Sir Robert Gordons 'very small house' could no longer accommodate the large household in attendance and the growing demands of hospitality. The City Architect of Aberdeen, William Smith, was selected to build a new castle 100 yards to the North West and on the 28th of September 1853 Queen Victoria laid the foundation stone. For two seasons the family stayed in the old house and the new Balmoral was ready for them in 1855.

'The whole house has a very fine effect' the Queen noted and Prince Albert was no less delighted. 'The way in which the building and grounds come out gives me much pleasure and surpasses my fondest expectations'. When the time approached for them to leave for the south, the Queen confided to her diary 'every year I seem to become fonder of this dear place, still more so, now that great and excellent taste has been stamped everywhere'. After the death of Prince Albert in 1861 the Queen spent more and more time at the estate. Her ministers were less than happy that their sovereign chose to spend a third of the year 500 miles from London but the Queen found the solitude which she needed so much at Balmoral, so full of her happiest memories. Each of her successors has also become attached to Balmoral - the castle, the grounds, the stunning surrounding countryside and the warm affection of the local people.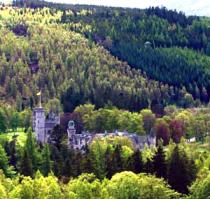 With Disabled Access:
Yes
Facilities
Historic House, Gardens, Tea Room, Picnic Area, Car Park, Private Group Tours, School Tours Available, Dogs on lead allowed in Gardens,
Weddings and Conferences
CONFERENCES IN BALLATER, ABERDEENSHIRE
Conference facilties up to 150.

Additional Services
Holiday Cottages, Salmon Fishing, Painting Holidays, Land Rover Safaris
In case of alteration, please check prices, opening times and any specific important information before booking or visiting
Deeside Hotel
, Ballater
Auld Kirk Hotel
, Ballater
Callater Lodge Guest House
, Braemar
Loirston Hotel
, Ballater
Monaltrie Hotel
, Ballater