Bed and Breakfast in York, Yorkshire
---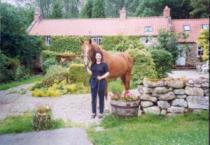 Carr House Farm
Ampleforth
York
Yorkshire
YO62 4ED
Tel: 44 (0)1347 - 868526
Map
Email: click here
Carr House Farm online: information and bookings


A QUALITY BED AND BREAKFAST ESTABLISHMENT
Part of a family run farm for 5 generations, Carr House is a sixteenth century stone farmhouse of considerable charm and character. Standing in an acre of gardens amid rolling acres of farmland, an area designated for its outstanding natural beauty in the Hambleton foothills, better known as Herriot/Heartbeat countryside.Take our local knowledge with you to enjoy and the most from time with us.
Carr House has the good fortune to be situated at the geographical hub of the riches that North Yorkshire can offer to the visitor. Half an hours pleasant drive takes you to the ancient city of York. Walk the moors, tour the coastline, visit famous abbeys and castles, or join in the many local sporting facilities.
Picturesque 16th century farmhouse. A country lovers paradise with an abundance of singing birds, wild flowers, beautiful areas steeped in history twixt abbeys of Byland and Ampleforth. Wonderful local views , breathtaking scenery, areas of outstanding beauty in the North Yorkshire Moors National Park.
Recommended in the first edition of THE TIMES BEST OF THE BEST COUNTY GUIDES!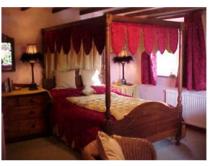 Additional Services

Our aim is to offer a sense of comfort and well being to our guests.
Whatever treatments you should choose, whether it be aromatherapy massage, hair, facial and body treatments, Our special treatments are designed to ease away muscle ache, soothe away strains leaving you relaxed and refreshed. Our range of products are chosen for their therapeutic value formulated using only the highest quality ingredients and we look forward to discussing a package made especially for you.
Attractions Nearby

• Castle Howard
• The North Yorkshire Moors Railway
• Ryedale Folk Museum
• Byland Abbey
• The World of James Herriot Museum
• Dalby Forest
• Ampleforth College
• Mouseman of Kilburn
• Newburgh Abbey
• Rievaulx Abbey
• St
Directions
From the A1,turn off for Thirsk,take the A19 for 2-3 miles towards York . Turn left to Coxwold. At the crossroads turn left to Byland Abbey and then on to Wass. Take the Ampleforth road for 1 mile and we are on the LEFT signposted CARR HOUSE with a pheasant logo on. There is no bed and breakfast sign.
Further Information
THIS IS ALSO THE HOME OF CUCKAVALD-GUNDOGS
Our aim at Cuckavalda Gundogs is to maintain and breed from quality lines to produce first class gundogs and dogs we are proud of.
We have fox red labradors,cocker and springer spaniels. Each with its own character but all are reliable, honest and easy to handle. Our dogs regularly go out on the shoots and it is a pleasure to watch them working,They are dedicate to their jobs when picking up and as soon as Jack goes to them in his working clothes they cant wait to get started.
The latest addition to the workers is Quozzi who was born in March 2008 .She is an active and intelligent little worker -a lemon and white cocker.Her mother,Molly, won merits in novice and open trials and her father,Bart, is Mark Faulconers right hand dog on his game farm at Brafferton. She is well known by locals as she was hand reared from being a week old .She already has a fan club.. A miracle pup who had pneumonia twice,fell off the top of the Aga,dislocated her shoulder- the pup the vets didnt give much hope for and there she is our youngest dog ever to go to work. She has a keen nose and her parents good instincts are already showing through.No doubt there will be more stories of Quozzi in the future,
Now is the best time to think about your dog needing to have some lessons. Whether it is a young dog starting with the basics or a dog needing to be brought on .The 2009-2010 shooting season will be here before you know and how nice it must be to have a dog with you,that you are proud of . More details- please give us a ring to discuss what your dog requires. For further information - www.cuckavalda-gundogs.co.uk
In case of alteration, please check prices, opening times and any specific important information before booking or visiting
Helmsley Castle
ENGLISH HERITAGE
, Helmsley
Duncombe Park
, Helmsley
Hovingham Hall
, York
Helmsley Walled Garden
, Helmsley