Places to Visit in Presteigne, Powys
---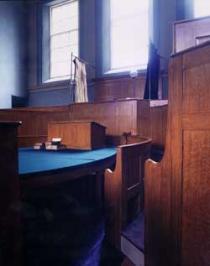 The Judge's Lodging
Broad Street
Presteigne
Powys
LD8 2AD
Tel: +44 (0)1544 260 650
Map
Email: click here
The Judge's Lodging online: information and bookings


Once called 'the most commodious and elegant apartments for a judge in all England and Wales' (Lord Chief Justice Campbell, 1855), decay beckoned Radnorshire's disused Shire Hall into obscurity. Now, aided by an interior hardly touched by time and original furnishings discarded in attics, extensive research and restoration has re-awakened this 'Victorian fossil'.
From the stunningly restored judge's apartments to the dingy servants' quarters below you can explore their gaslit world. Damp cells remind you of the building's true purpose, along with the vast courtroom where your imagination in captured by the echoing trial of William Morgan, local duck thief.
Visitors to the building are accompanied by an eavesdropping audiotour of voices from the past; you will hear their tale, from Mary the hardworking maid, to Reverend Richard Lister Venables, Chairman of the Magistrates and employer of the famous diarist Francis Kilvert, portrayed by actor Robert Hardy.
Facilities
Historic House, Private Group Tours Available, School Tours Available
Weddings and Conferences
Weddings & Civil Partnership Ceremonies at The Judge's Lodging
Whether you are looking for a beautiful period setting for your special day, or a touch of the unusual, The Judge's Lodging has something to offer you.
With three stunningly restored rooms registered for ceremonies, we will do all it can to make your wedding a day to truly remember.
Contact us at info@judgeslodging.org.uk or Tel: 01544 260650 and we will send you a full information pack with all you need to know to help you plan your big day.
Additional Services
Business launches and promotions
Admission
Adult £6.75
Child £3.50
Concession £5.75
Family £18.00
Disabled visitors free
Group rates [10 or more]
Adult £6.25
Concession £5.25
Educational sessions £4.50
Special themed tours for groups also available - see website for details
In case of alteration, please check prices, opening times and any specific important information before booking or visiting
Harp Inn
, Old Radnor
Red Lion Inn
, New Radnor