Self Catering in Jersey, Channel Islands
---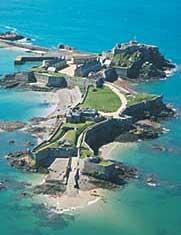 Elizabeth Castle
Heritage Lets
Jersey Heritage The Weighbridge St Helier
Jersey
Channel Islands
JE2 3NF
Tel: +44(0)1534 633304
Fax: +44(0)1534 633301
Email: click here
Heritage Lets online: information and bookings


BARGE AROUND
Before the Second World War there were many holiday bungalows along St Ouen's Bay, of which The Barge Aground is the only survivor. This quirky 1930s folly is built in the shape of a grounded boat overlooking the wonderful sunsets that dominate summer evenings in St Ouen.
Sleeps 4 (6 max). Beds: 2 adult bunk bed bedrooms and 1 sofa bed in living room.
Location, St Ouen's Bay on Jersey's west coast, just several metres from beach.
ELIZABETH CASTLE
Jersey was defended from this spacious fortress built on an islet in St Aubin's Bay for 300 years from the Civil War to the German Occupation. A fully equipped apartment with spacious living and modern services has been created from the Soldiers' Barracks set in the parade ground of the castle. This includes a kitchen, living room, bathroom and one bedroom. Elizabeth Castle apartment
Sleeps 4 - 6, ideal for family of 4 or 2 couples. Beds: 1 double with 2 single beds in main bedroom, 1 double sofa bed in living room.
Location, Elizabeth Castle, situated on an islet in St Aubin's bay. Islet surrounded by sea twice a day.
FORT LEICESTER
Fort Leicester is a magnificent 19th century fort that once was home to a defence force protecting Jersey's north coast from French invasion.
Sleeps 6 - 8. Beds: 1 double with 2 single beds in main bedroom, 1 adult bunk bed bedroom, 1 double sofa bed in kitchen diner.
Location, The cliff side above the pier at Bouley Bay on Jersey's north coast, with beautiful sea views.
RADIO TOWER
During the Occupation of Jersey three huge observation towers were built by the Germans as part of Hitler's Atlantic Wall defences comprising 15,000 structures stretching from Norway to the Loire. Their purpose was to direct artillery fire against targets out to sea. One of these, La Corbière Radio Tower, is available as accommodation for the first time.
Sleeps 6. Beds: 3 double beds.
Location, Overlooking Corbière lighthouse on Jersey's southwest coast, with outstanding 360° views of land and sea from top floor living room.
LA CRETE FORT
La Crête Fort is located on an isolated headland on Jersey's rugged north coast between Bonne Nuit Harbour and Giffard Bay. It dates back to the 1830s on a site that was first militarised in the16th century.
Sleeps 4, single beds
Location, on the cliff top at Bonne Nuit Harbour on the north coast of Jersey with views over to France.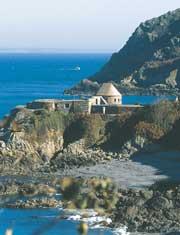 La Crête Fort
In case of alteration, please check prices, opening times and any specific important information before booking or visiting
Radisson SAS Waterfront Hotel - Jersey
, St Helier
Restaurant Sirocco @ The Royal Yacht
, St Helier
Samarès Manor
, Jersey
Green Island Restaurant
, St Clement
Bohemia Restaurant
, St Helier