Castles in Isle of Skye, Highlands and Islands
---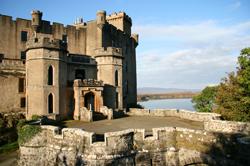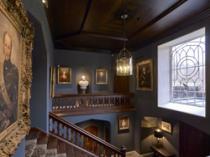 Dunvegan Castle and Gardens
Dunvegan
Isle of Skye
Highlands and Islands
IV55 8WF
Tel: +44 (0)1470 521 206
Map
Email: click here
Dunvegan Castle and Gardens online: information and bookings


Any visit to the Isle of Skye is incomplete without enjoying the wealth of history on offer at Dunvegan Castle & Gardens, the ancestral home of the Chiefs of clan MacLeod for 800 years and the oldest continuously inhabited castle in Scotland.
Sir Reginald MacLeod (27th Chief) was the first Chief to open Dunvegan to the public in 1933 for charitable purposes two days a week. Since then, the number of visitors has risen from a few hundred to hundreds of thousands. Despite such numbers crowding into a space that was designed to keep people out, we do everything we can to maintain this atmosphere of a family home while sharing our passion for Dunvegan's historic collection with you. Your support is greatly appreciated. It will help us to preserve, develop and share this iconic part of Scotland's heritage for future generations to enjoy.
Visitors can enjoy tours of an award winning castle and Highland estate steeped in history and clan legend, delight in the beauty of its formal gardens, take a boat trip to see the Loch Dunvegan seal colony, charter one of its traditional clinker boats for a fishing trip or Loch cruise, stay in one of its charming Victorian holiday cottages, enjoy an appetising meal at the MacLeod Tables Cafe or browse in one of its four shops offering a wide choice of high quality Scottish products.
On display are many fine oil paintings and clan treasures, the most famous of which is the Fairy Flag. Legend has it that this sacred banner has miraculous powers and when unfurled in battle, the clan MacLeod would invariably defeat their enemies. Another of the castle's great treasures is the Dunvegan Cup, a unique 'mazer' dating back to the Middle Ages. It was gifted by the O'Neils of Ulster as a token of thanks to one of our most celebrated Chiefs, Sir Rory Mor, for his support of their cause against the marauding forces of Queen Elizabeth I of England in 1595. We also have a small collection of Jacobite and Bonnie Prince Charlie relics on display including the Prince's waistcoat and a lock of his hair, a Jacobite amen glass, Flora MacDonald's corset and pin cushion etc.
Dunvegan Castle's five acres of formal gardens began life in the 18th century. In stark contrast to the barren moorland and mountains that dominate Skye's landscape, the gardens are a hidden oasis featuring an eclectic mix of plants as you make your way through woodland glades, past shimmering pools fed by waterfalls and streams flowing down to the sea. After experiencing the Water Garden with its ornate bridges and islands replete with a rich and colourful plant variety, wander through the elegant surroundings of the formal Round Garden featuring an ilex crenata parterre as its centrepiece overlooked by a Monkey Puzzle (Araucaria araucana). The Walled Garden is well worth a visit. In what was formerly the castle's vegetable garden, is now a diverse range of plants and flowers that complement the attractive features including a water lily pond, Garden Museum, Memorial Gazebo, 17th century lectern sundial, Larch Pergola, Glass House and the 'Dunvegan Pebble', a rotating 2.7 ton Carrara marble sculpture. There is also a herbal border and traditional raised vegetable beds to illustrate the Walled Garden's original function to provide food for the Chief, his family and clansfolk. A considerable amount of replanting and landscaping has taken place over the last forty years to restore the gardens to their former glory and provide a legacy which future generations can enjoy.
Over the centuries, we have given a warm Highland welcome to visitors including Sir Walter Scott, Dr Johnson and Queen Elizabeth II and we look forward to welcoming you.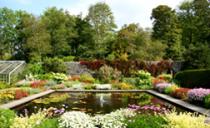 Facilities
Historic Castle, Gardens, Cafe, Picnic Area, Shops, Fishing Trips & Loch cruises, Seal Boat Trips, Car Park, Dogs on Leads are Allowed in the Gardens
Restaurant
The MacLeod Tables Cafe offer good quality food at affordable prices. Our self-service menu caters for those seeking a soup or light snack in a relaxed and friendly atmosphere accompanied by a warm Highland welcome.
Weddings and Conferences
Set in the stunning scenery of the Isle of Skye, Dunvegan Castle & Gardens is one of Scotland's premier venues for weddings where fine cuisine and a warm Highland welcome combine to offer the very best in the region. premier venues for weddings where fine cuisine and a warm Highland welcome combine to offer the very best in the region.
Additional Services
Dunvegan Castle Craft and Gift Shops
There are four craft and souvenir shops that provide an excellent range of gifts and souvenirs to suit every taste from pottery, tableware, jewellery, books and postcards to our own label MacLeod of MacLeod Malt Whisky. St Kilda Shop & Gallery offers the discerning visitor an excellent choice of high quality Scottish knitwear and locally sourced products in a beautiful period building which used to be the Post Office servicing the Outer Hebrides. So why not call in and visit us when you are on Skye, you are very welcome to browse.
Admission
Please see website for details – www.dunvegancastle.com
Opening Times
1 April – 15 October
Mon-Sun 10am – 5.30pm - Last admission at 5pm
16 October – 31 March closed.
Directions
Inverness A82 to Invermoriston, A887 to Kyle of Lochalsh Fort
In case of alteration, please check prices, opening times and any specific important information before booking or visiting
Roskhill House
, Dunvegan