Places to Visit in Bath, Bath
---
The Roman Baths
Roman Baths
Pump Room, Stall Street
Bath
Bath
BA1 1LZ
Tel: 01225 477 785
Fax: 01225 477 743
Map
Email: click here
Roman Baths online: information and bookings


The City of Bath is designated by UNESCO as a World Heritage Site. A visit will soon reveal the reasons.
Central to Bath, the very reason for its existence, is the natural hot spring which has flowed for as long as man can tell through the heart of the city.
At 46 degrees C (115 degrees F), it rises at a temperature which is almost too hot for bathing, but Roman settlers living at the very limits of their extensive empire quickly solved the problem by channelling this unique resource – the only hot spring in Britain – to flow through an extensive suite of bathing pools as it cooled. They added changing rooms, hot saunas and cold plunge pools to complete the ultimate in first century leisure experiences.
The Great Bath still flows with natural hot water and the Roman site has been extensively excavated to reveal not only the Roman Baths but also a magnificent 2000 year old Temple. Sulis Minerva, Goddess of Wisdom and Healing, was worshipped next to the Sacred Spring by both the Roman conquerors and native Celts until at least 360 AD. A wealth of treasure and many everyday objects have been discovered and are now on display in the museum which is part of the site. The entire site is interpreted by video reconstructions and personal audio guides which are available to visitors at no extra charge, in any of eight languages.
After the visit, browse in the Museum Shop or take lunch or tea in the Pump Room above the Roman Baths. There, you can also taste the spring water which was so popular in Georgian times as a cure for all ailments.
If you are in Bath for a full day or more, a joint ticket for the Roman Baths and Fashion Museum is very good value. Housed ten minutes' walk away in Bath's magnificent Georgian Assembly Rooms, the Fashion Museum is one of the finest collections of fashionable garments in the world and has a programme of special exhibitions drawn from the Fashion Museum's world renowned collection.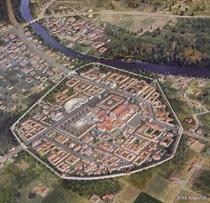 The Roman Site
Facilities
Historic House, Wheelchair Access, Restaurant, Private Group Tours Available, School Tours Available
Additional Services
Business Facilities
Business launches and promotions, up to 70 people
In case of alteration, please check prices, opening times and any specific important information before booking or visiting
The Full Moon At Rudge
, Rudge
Midway Cottage
, Bradford upon Avon
Dolphin House
, Bath
Kasuli
, Street
Cradlebridge
, Glastonbury