Hotels in Clovelly, Devon
---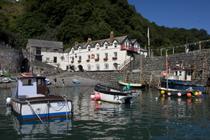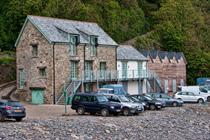 Red Lion Hotel (Clovelly)
The Quay
Clovelly
Devon
EX39 5TF
Tel: 01237 431237
Map
Email: click here
Red Lion Hotel (Clovelly) online: information and bookings


In a complete retreat from today's thundering motorways and stress-filled working hours, the Red Lion Hotel at Clovelly reminds us all of what used to be the unhurried, natural pace of life. To wake up to the sights and sounds of Clovelly's ancient, unspoilt harbour and the sea on the shingle beach is a unique and delightful experience.
Each of the 11 guest rooms has an en-suite bathroom and enjoys either a sea or harbour view. All are beautifully decorated with a stylish nautical theme, reflecting Clovelly's age-old maritime tradition. The Sail Loft is a recent conversion of an adjacent grade II listed building and provides a further six comfortable and stylish bedrooms all overlooking Bideford Bay.
There is wi-fi availability, but owing to the age of the property, it is more accessible in some rooms than others.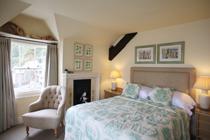 Restaurant
The Harbour Restaurant
Much is said these days about the impact of food miles, but at the Red Lion Harbour Restaurant, we can proudly talk about food feet. Fresh fish is landed daily outside our door. And with seasonal produce from Clovelly Court Gardens, grown to organic principles, together with game from Clovelly estate, our chef has the finest of local ingredients from which to create his seasonal dishes.
It is also the perfect place to hold wedding receptions and private functions.
The Snug and Harbour Bars
If you want to mingle with the locals, head for the Snug Bar for a drink or two in convivial company. The Harbour Bar is the place to watch the comings and goings of a fishing village. Take a tasty snack, lunch or order a modern evening bar dinner.
Weddings and Conferences
WEDDINGS IN CLOVELLY https://www.clovelly.co.uk/celebrationweddings/
Clovelly is the most romantic venue for your wedding in North Devon. This enchanting village of timeless beauty offers picturesque settings for your wedding day that will always bring you wonderful memories. From wooded cliffs far above the old harbour, a cobbled street winds down to the sea past cottages bedecked with bright flowers.
Clovelly Court Gardens Summerhouse and the Wilderness Summerhouse to the west of Clovelly, overlooking Mouthmill, are licensed wedding venues. They offer many options for your special day.
Receptions can be held at the Red Lion Hotel or New Inn. Clovelly Court Great Terrace offers marquee space for a wedding party from 80 to 200+ guests with a sweeping vista of Bideford Bay and beyond.
We want your celebration to be the most perfect occasion for you and your guests. You can rest assured that we will be committed to help you make it truly memorable. We have the experience and the skills to make the occasion really special.
For wedding ceremonies and hotel wedding packages, please contact: Rachel Haines, Events Manager.
Tel: 07530 829653
Email: weddings@clovelly.co.uk
For marquee wedding receptions on Clovelly Court Great Terrace, please contact: NDWEP event planners.
Tel: 07789 287630
Email: info@ndwep.com
In case of alteration, please check prices, opening times and any specific important information before booking or visiting
Go Back to Devon?
More Hotels in Devon?
Places to Visit near Red Lion Hotel (Clovelly)
Yeolden Country House Hotel
, Bideford
Tapeley Park House and Gardens
, Bideford
Docton Mill & Garden
, Hartland
The Hoops Inn & Country Hotel
, Horns Cross
Decks Restaurant
, Instow