Heritage Travel Books
---
Heritage Britain And Ireland
A 500 page glossy, full colour, perfect bound A5 publication taking a historical tour of Great Britain and Ireland. Historic Houses, Castles, Gardens, Museums and Galleries galore. Heritage Tours, Ancestry and Family Trees and, of course, Hotels, Inns, Cottages & Bed and Breakfast accommodation.
A myriad of full colour photographs portraying the history and heritage of the British Isles and Ireland.
Whether you plan to come to The British Isles and Ireland in person or merely take a historic journey via this handbook, I hope you enjoy your visit!
Heritage Britain And Ireland has been published since 1993
£10.00 incl postage & packaging.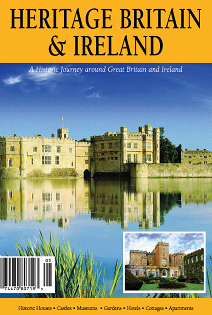 Heritage Handbook Company Ltd.
PO Box 291, Beckenham, Kent, England, BR3 1XL.
Email: mail@heritagebritain.com
Should you wish to purchase a copy for yourself or a friend click here
Testimonial
An indispensable guide for those planning a historic tour of the British Isles and Ireland.
Over 300 historic sites, including, castles, manor houses, battlegrounds, birthplaces of writers, painters and historic figures are described in detail along with dates and times that they are open to the public. The historic sites are grouped together regionally and include places to stay from five star hotels to simple bed and breakfasts. This will allow you to optimise your visits to magnificent historic homes like Blenheim Palace, Castle Howard, Chatsworth and the inspiring remains of 1,000 year old abbeys such as Battle, Fountains, and Bolton and even older historic sites such as Stonehenge and Hadrians Wall. You will want to have this 610 page, profusely illustrated and indexed guide with you every step of the way on your history tour.
The above Article was featured in History Magazine
SOME MORE TESTIMONIALS......
"An excellent publication- hence our continuing support"
Michael Pickard, Curator, Hatfield House, Herts
"Well done! the book shows improvement every year"
Ozanna Duffy, Tourism Officer, South Oxfordshire
"I like the book very much"
Sir Humphry Wakefield, Chillingham Castle
"It is the only publication we advertise in which improves each and every year"
Diane Bragg, Tourism Officer, Stroud District Council.
"One of the best guides available"
Dr Rhodes, Torre Abbey
"Thank you in advance for the next issue of your lovely book, my friend and I are planning our trip of a lifetime to the British Isles at the end of July"
Elizabeth Nelson, San Bernardo, California
"The best book of itıs kind available, we will make very good use of it"
Ronald Kaiser, Tucson, Arizona
"The handbook is interesting and very helpful for all parts of Britain, I enclose my subscription for the next issue and wish you every success"
J. Phillips, Michigan
"The most useful book of itıs kind that we have come across. Many of our friends have used it too"
D. Copplestone, Looe, Cornwall
"An essential glove box companion, I have used it many times and will continue to do so"
Glyn Jones, Pangbourne, Berks
It is very unusual to find both good quality accommodation and historic sites to visit all under one cover"
P. Payne, Redhill, Surrey
"A beautiful publication"
Anne Macphail (Regional Sales Manager - Disticor Magazine Distributors )
"A great looking publication and very reasonably priced"
Ron Sellwood (Marketing and Promotions Manager - Disticor)
County Links
England
| Bath | Bedfordshire | Berkshire | Birmingham | Bristol | Buckinghamshire | Cambridge | Cambridgeshire | Cheshire | Cleveland | Cornwall | Cumbria | Derbyshire | Devon | Dorset | Durham County | Essex | Gloucestershire | Hampshire | Herefordshire | Hertfordshire | Isle of Wight | Kent | Lancashire | Leicestershire | Lincolnshire | Liverpool | London | Manchester | Merseyside | Norfolk | Northamptonshire | Northumberland | Nottinghamshire | Oxford | Oxfordshire | Rutland | Shropshire | Somerset | Staffordshire | Suffolk | Surrey | Sussex | Tyne and Wear | Warwickshire | West Midlands | Wiltshire | Worcestershire | York | Yorkshire |
Scotland
Aberdeenshire | Angus | Argyll, Mull, Bute | Ayrshire | Clackmannanshire | Dumfries and Galloway | Dunbartonshire | Dundee | Edinburgh | Falkirk | Fife | Glasgow | Highlands and Islands | Isle of Arran | Kincardineshire | Lanarkshire | Lothian | Moray | Orkney Islands | Perth and Kinross | Renfrewshire | Scottish Borders | Shetland Islands | Stirlingshire |
Wales
Anglesey (Isle of) | Bridgend | Caerphilly | Cardiff | Carmarthenshire | Ceredigion | Conwy | Denbighshire | Flintshire | Gwent | Gwynedd | Merthyr Tydfil | Monmouthshire | Neath Port Talbot | Newport | Pembrokeshire | Powys | Rhondda | Swansea | Torfaen | Vale of Glamorgan | Wrexham |
Northern Ireland
Antrim | Armagh | Belfast | Down | Fermanagh | Londonderry | Tyrone |
Ireland
Carlow | Cavan | Clare | Cork | Donegal | Dublin | Galway | Kerry | Kildare | Kilkenny | Leitrim | Limerick | Longford | Louth | Mayo | Meath | Monaghan | Sligo | Tipperary | Waterford | Westmeath | Wexford | Wicklow |
The Channel Islands and The Isle of Man